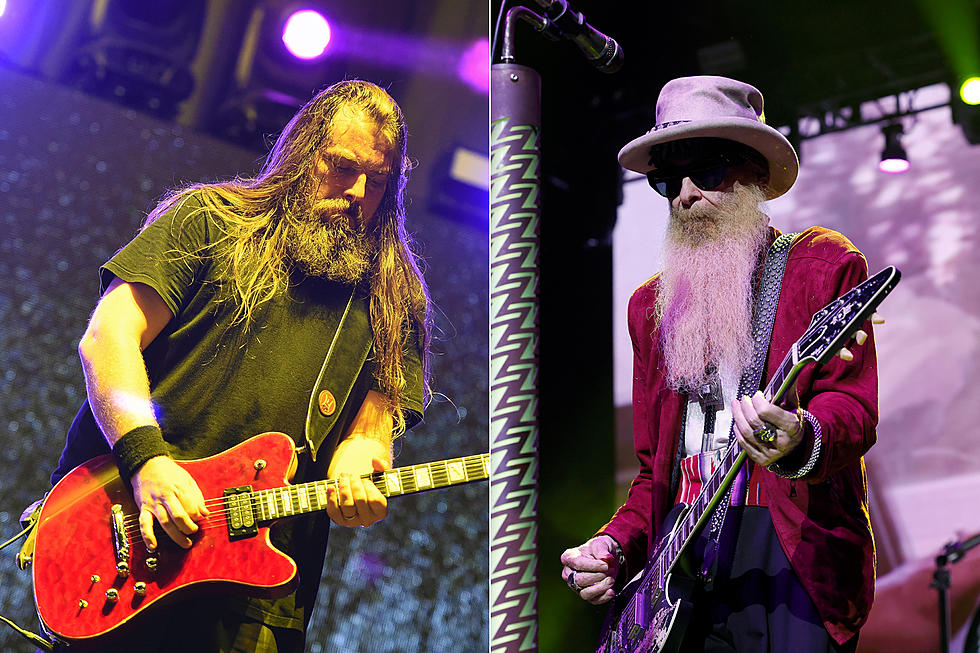 Lamb of God's Mark Morton Names 'God Tier' ZZ Top Guitar Song + 'Wildly Underrated' '80s Guitarists
Ethan Miller / Frazer Harrison, Getty Images
Lamb of God's Mark Morton has been going down the rabbit hole of guitar favorites of late, giving props to ZZ Top's Billy Gibbons in a posting on X (formerly Twitter), while sharing his list of "wildly underrated" '80s guitarists in another post.
So what's moving Morton about ZZ Top these days? The Lamb of God had nothing but high praise for Gibbons, noting in his posting, "Billy Gibbon's [sic] tone at the beginning of ZZ Top's 'Brown Sugar' is absolutely God tier. It's one of the best recordings of an electric guitar ever made."
"Brown Sugar" was the second song on ZZ Top's First Album back in 1971. Though not released as a single, the track showed off Gibbons' bluesy playing style, as can be heard in the player below.
ZZ Top, "Brown Sugar"
Mark Morton's List of "Wildly Underrated" '80s Guitar Players
The Lamb of God guitarist wasn't done speaking about guitarists of yesteryear, sharing his love for a number of '80s players he didn't feel got the recognition they deserved. In another posting on X, Morton commented, "Here's a short, unsolicited list of wildly underrated guitarists that were in popular '80s bands …. the dude in The Cars, the dude in Huey Lewis & The News, the dude in REO Speedwagon, the dude in Miami Sound Machine, the dude in The Georgia Satellites."
So, let's give a little love to those players as well. The Cars got their due with a Rock and Roll Hall of Fame induction in 2018. But while singer/rhythm guitarist Ric Ocasek and singer/bassist/keyboardist Benjamin Orr got much of the attention, Elliott Easton was laying down the licks as the lead guitarist on such notable songs as "Just What I Needed," "Shake It Up," "You Might Think" and "Magic."
The Cars, "Shake It Up"
For Huey Lewis & the News, it was Chris Hayes handling lead guitar duties through the bulk of their hit-making success. The band scored such '80s hits as "I Want a New Drug," "Workin' for a Living," "The Heart of Rock & Roll," "Bad Is Bad," "Heart and Soul," "The Power of Love," "Stuck With You" and "Jacob's Ladder" amongst others.
Huey Lewis & the News, "Heart and Soul"
"The dude in REO Speedwagon" through their '70s and '80s success was guitarist Gary Richrath, who exited the band in 1989 with Dave Amato taking over. After scoring with "Time for Me to Fly" and "Roll With the Changes" in the '70s, the band hit their commercial stride in the '80s with such standouts as "Keep On Loving You," "Take It On the Run," "Don't Let Him Go," "Keep the Fire Burnin'," "I Do'Wanna Know" and the power ballad "Can't Fight This Feeling."
REO Speedwagon, "I Do'Wanna Know"
"The dude in Miami Sound Machine" is a little harder to pin down. The band scored their U.S. breakout in 1985 with their Primitive Love album, with Wesley B. Wright handling guitar duties on "Conga," "Bad Boy" and other hits. But with Estefan emerging as a star, the follow-up album Let It Loose was released in 1987 under the moniker Gloria Estefan & Miami Sound Machine. Wright had exited the group by then after a seven-year run with the band, with John Defaria handling guitars on "Rhythm Is Gonna Get You" and "1-2-3."
Gloria Estefan & Miami Sound Machine, "1-2-3"
READ MORE: Anthrax's Scott Ian Names the Most Underrated Rhythm Guitarist in Metal
And finally, "The dude in Georgia Satellites" was lead guitarist Rick Richards during their '80s breakout. The band was best known for their 1985 self-titled album and its breakout single, "Keep Your Hands to Yourself." The group would score lesser hits with "Battleship Chains" and their 1988 Cocktail soundtrack song "Hippy Hippy Shake."
Georgia Satellites, "Keep Your Hands to Yourself"
Where You Can See Mark Morton in Lamb of God
While the picks above show Morton's varied tastes, you can find him playing something significantly heavier with Lamb of God back out on the road at the moment. The group will play the Maine Savings Amphitheater tomorrow night (Sept. 7) in Bangor, Maine, with shows currently booked through the New England Metal & Hardcore Festival in Worcester, Massachusetts the weekend of Sept. 15-16.
The group is also set to perform aboard the Headbangers Boat which sets sail from Miami Oct. 31-Nov. 4 and they've got an appearance booked at the Mexico Metal Fest in Monterrey, Mexico the weekend of Nov. 10-11. See their full schedule and get ticketing info here.
30 Most Underrated Hard Rock + Metal Guitarists
More From Classic Rock 105.1