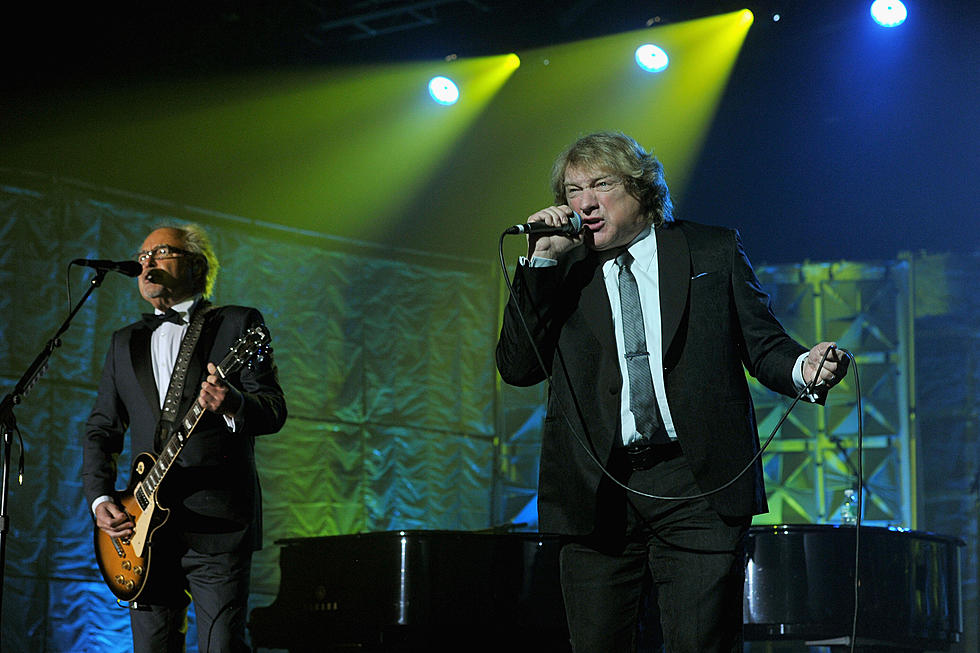 Ex-Foreigner Singer Claims 'Personal Vendetta' Has Kept Band From Being Nominated for Rock Hall
Larry Busacca, Getty Images
There are plenty of arguments to be made for bands that should be in the Rock and Roll Hall of Fame, but there's one hit-making band from the '70s and '80s that surprisingly has still not even appeared on a ballot to be considered for induction - Foreigner. The band's singer through most of their commercial success was Lou Gramm, and during an appearance on The Rock Shop With Ralph (as seen below), Gramm claimed that a personal vendetta has kept the band's name being mentioned in the Rock Hall conversation.
"It's not anything to do with our music or the amount of hits or notoriety or anything like that. It's a personal thing that we're not in there," stated the vocalist.
Without calling the individual holding the grudge by name, Gramm did state, "It's a personal vendetta between the gentleman who owns Rolling Stone and Mick [Jones]. It's very juvenile, the whole thing, and I don't think it's gonna get any better. I think it's gonna stay that way. I think we're being made an example of."
When asked if he felt the band should be in, Gramm remarked, "Of course I do. The original Foreigner [lineup]. I put an exclamation point at the end of that [and it's not something] we need to talk about."
Foreigner's April Fool's Rock Hall Plea
Earlier this year, Foreigner used the guise of April Fool's Day to make a plea for the Rock Hall via their socials. A message appeared on their site that read, "In an unprecedented move, the entire board of the Rock & Roll Hall of Fame met especially to nominate Foreigner. The board recognized that Mick Jones' and Foreigner's major contribution to music over the years warranted a very special place in the history of the Hall of Fame. Said manager Phil Carson, 'Needless to say, we are all delighted to learn of this unique privilege. I believe that the entire board realized that Foreigner had as many hits as Fleetwood Mac, just one less than the Eagles, and more than Journey and many other Hall Of Fame alumni. We are greatly looking forward to the induction ceremony."
A day later, Carson followed up on the posting saying that while it was meant with humor "and not without a touch of irony," there is a very real case to be made for the band's induction.
"Foreigner should be in the Rock 'n' Roll Hall of Fame," he wrote. "Mick Jones' groundbreaking song writing and production skills coupled with music sales and performances that eclipse most of their contemporaries should be enough to warrant Foreigner's nomination and induction. Mick founded Foreigner in 1977 and went on to conquer the world with as many Billboard top ten hits as Fleetwood Mac, just one less than the Eagles, and more than Journey and most of the heritage band Rock 'n' Roll Hall of Fame alumni. He created the current version of Foreigner in 2005 and chose the amazing Kelly Hansen as the lead singer to breathe new life into the songs he wrote and co-wrote."
"That band has performed around 100 shows all over the world each year since then and continues to play to sell out business as they continue the journey on their two year farewell tour," Carson added. "Please try to see them before they are done, but most of all, help us put some pressure on the Rock 'n' Roll Hall of Fame board to do the right thing while there is still time for them to deliver a stellar performance at their well deserved induction."
READ MORE: Foreigner's Kelly Hansen 'Open' to Working With Lou Gramm Again
Breaking Down Foreigner's Rock Hall Case
Over the course of their career, Foreigner have released nine studio albums, a majority of which were multi-platinum offerings. Their biggest, 1978's Double Vision, has been certified 7 times platinum in the U.S. while featuring the singles "Hot Blooded," "Double Vision" and "Blue Morning, Blue Day." It peaked at No. 3 on the Billboard 200 chart.
The band's fourth album, 4, was certified 6 times platinum in the U.S., yielding the singles "Urgent," "Waiting for a Girl Like You" and "Juke Box Hero" Both their 1977 self-titled debut and 1979's third album Head Games have reached 5 times platinum status. 1984's Agent Provacateur is a triple-platinum album, while its follow-up, 1987's Inside Information, reached platinum status. Their first five studio albums all hit the Top 10, with Foreigner 4 topping the Billboard 200 chart. And their 1982 hits collection, Records, also hit the Top 10.
As for singles, they've had 9 Top 10 singles in the U.S., including the chart-topping, "I Want to Know What Love Is." Other hit singles include "Feels Like the First Time," "Cold as Ice," "Hot Blooded," "Double Vision," "Urgent," "Waiting for a Girl Like You," "Say You Will" and "I Don't Want to Live Without You."
In total, they've sold over 80 million records worldwide with over 37.5 million sold in the U.S.
Where You Can See Foreigner?
Need some further convincing? Although most of the original lineup have moved on, the current lineup is keeping the music alive on the band's farewell tour. Dates are currently booked into November, where you can expect to hear many of the group's biggest hits. Ticketing details can be found here.
Lou Gramm Guests on The Rock Shop With Ralph
43 Hard Rock + Metal Acts Who Deserve to Be in the Rock and Roll Hall of Fame
There's a case to be made.
More From Classic Rock 105.1