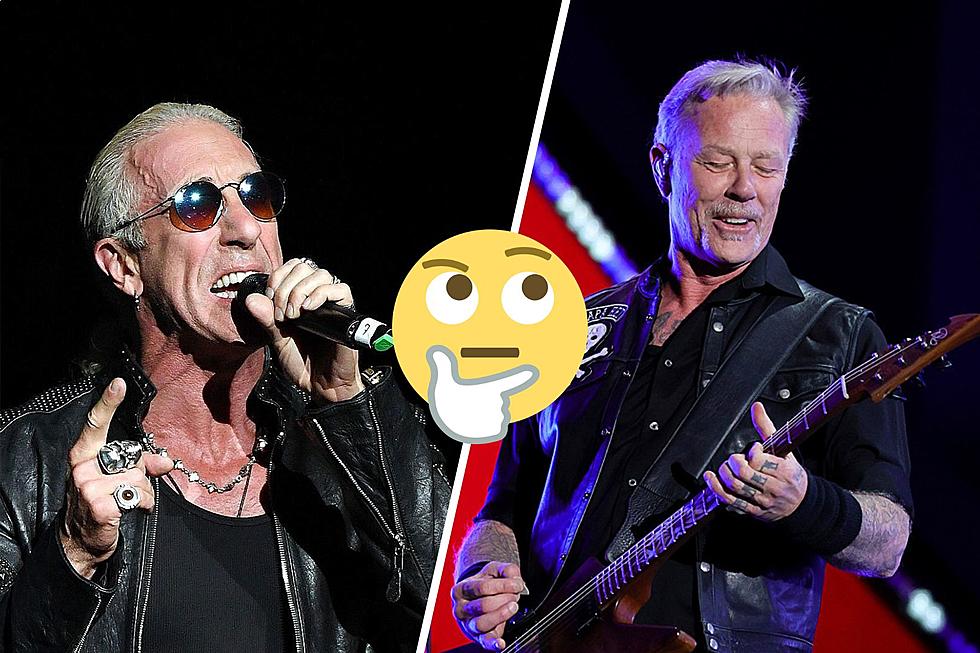 Dee Snider Criticizes Concept Behind Metallica's 'No Repeat Weekend' – 'It's Kind of Self-Serving'
Ethan Miller, Getty Images / Theo Wargo, Getty Images / Canva
For the past few months, Metallica have been honoring their legacy – and 2023's 72 Seasons – with a series of "No Repeat Weekend" shows (consisting of "two totally different set lists with two different bands opening the show each night"). One person who isn't a fan of that approach is Twisted Sister frontman Dee Snider, as he recently told the Shout It Out Loudcast
On the latest episode of the KISS podcast (posted yesterday, Sept. 2), Snider was asked about his thoughts on what Metallica are doing. He responded [via Blabbermouth]:
Well, I wasn't aware they were doing that, and credit to them, but I think it's kind of self-serving. And it really only appeals to a small percentage of the crowd. The majority of the people going to these shows — and not just [people who are going to see] Metallica; [this also applies to bands like] KISS and Twisted — they're there for the hits. The percentage of people who know the deeper cuts and are willing to accept not hearing "Enter Sandman" one night, that's a very small bunch of people.
He makes a fair point, right?
He continued [via Blabbermouth]:
When Twisted first reunited, it was for that New York Steel show [in 2001] Eddie Trunk put on, and the [other] guys made the setlist and they wanted to put some deep cuts; they put some stuff from the bar days in there. And it was the first show back together and I didn't wanna make any waves. And I remember we played those songs and it was just dead and just about eight hands [raised in the air], like you could count the hands. "They're playing 'Come Back,'" which was never on an album; it was one of our big club songs.

And after that, the guys said, "All right. No more putting that stuff in the show" because it's really self-serving; it caters to a very small part of the audience. Unless you're buying both — and that's maybe the idea. You know, shake 'em down, get 'em to buy both tickets so they're hearing every song 'cause they're diehards.

But Metallica's audience has grown so far beyond just hardcore fans. They have hits. And then I harken back to when Iron Maiden toured. Remember they played the entire new album; they refused to play any of their hits. Audience was furious. Bruce [Dickinson] was yelling at the crowd because they weren't getting into it. It was self-serving to do that. And the next year they came back, and it was the biggest hits only, 'cause they had to make up for that.
Pointing at the podcast hosts, Snider added [via Blabbermouth]:
Unfortunately, you guys, . . . and people like you are the minority; they're not even close to the majority. You're 10%, 5%, 1% of the crowd who really want to hear those deep cuts and will savor it when they go into those songs. I'm just being honest. Yes, the hardcore [fans] love to hear those extra songs, those special songs. The majority aren't hardcore, and they are filling up that arena, they're filling up that festival. They're here to hear the big songs, and that's when they light up, and you could see their reaction.
READ MORE: Watch Kansas State University Marching Band Perform Metallica Halftime Show
You can listen to the full podcast episode below.
Interestingly, Snider later retweeted the Blabbermouth article, clarifying: "No need to call me, James (though I always love hearing from you). Read the article NOT just the headline. I wasn't attacking @Metallica . It was a broader discussion on heritage artists playing new music and the majority of the audiences lack of interest. #sadbuttrue"
Likewise, the podcast itself retweeted Snider's tweet, adding: "People should actually listen to what Dee said by listening to the interview. Dee was not insulting anyone, certainly not @Metallica."
Indeed, Snider was making a larger point about modern music, not attacking Metallica or any other band specifically.
Do you agree with him, though? Let us know!
Speaking of Snider giving his thoughts on the industry, he recently voiced his opinion on rockers reuniting after a farewell tour. To his credit, Twisted Sister have stayed true to their 2016 live retirement (save for a one-off appearance earlier this year, when they were inducted into the Metal Hall of Fame).
As for Metallica, they just postponed their Sept. 3 show (in Glendale, Ariz.) to Sept. 9 due to James Hetfield testing positive for COVID-19. The news and decision came after their Sept. 1 performance (also in Glendale, Ariz.) was shortened due to Hetfield suffering vocal issues.
You can stay up to date with Metallica's upcoming tour dates here, and grab tickets here.
Dee Snider Talks About Metallica + More on the 'Shout It Out Loudcast' (Sept. 2, 2023)
What If 20 Iconic Rock + Metal Bands All Had Metallica-Style Logos?
Because everyone should have a Metallica-styled logo.
More From Classic Rock 105.1