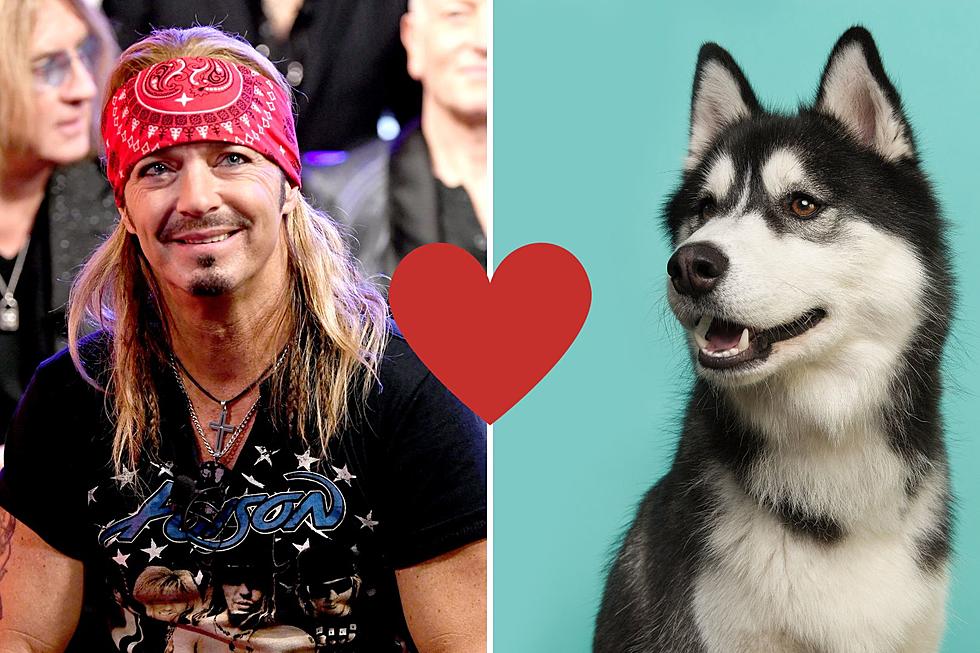 Bret Michaels Adopts Adorable 'Hero' Dog That's, Well, Named Bret Michaels
Kevin Winter,Getty Images / MirasWonderland, iStock/Getty Images Plus / Canva
Just about everyone loves cats and dogs, right? Poison frontman Bret Michaels certainly does; in fact, he recently adopted a 6-year-old husky that – coincidentally enough – is named after him.
Last Tuesday (Oct. 17), the Nebraska Humane Society posted a Facebook status detailing how the young doggy "save[d] the day" when "a kitten's life was hanging in the balance." Specifically, they wrote:
It's not very often that our own dogs get a chance to be the hero! When a kitten's life was hanging in the balance, 6 year old husky Bret Michaels stepped up to save the day.
Yesterday our medical staff was working on a trio of month-old kittens who had been brought in as strays. They were dirty, cold, and covered in fleas. After a much-needed bath, two of the kits were doing well, but the third seemed a little bit "off". He was wobbly, weak, and lethargic.

These symptoms, combined with the state he was in, all pointed to one thing: flea anemia. For adult animals, a flea infestation might only affect a small percentage of healthy red blood cells in the body. But for this tiny guy, the impact was far greater.

He needed blood - and he needed it now. Cats, like humans, have blood types. Us humans are lucky to have a "universal donor" type, O-, that can be safely transfused into a person with any other type. Cats, however, don't have the luxury of a universal donor type, and transfusing the wrong blood could have dire consequences. Our kitten couldn't wait for testing to be done to determine a suitable feline donor, but veterinary science has a trick up its sleeve: canine blood can be transfused into felines.

It's called xenotransfusion, and it's a common practice in cases like this. While it's not a permanent solution, it gave our kitten what he needed most: time.

Since Bret had bloodwork done just the other day, our vets knew he was a good candidate to donate. Soon after the first round of transfusion, little man started showing signs of improvement. He had a sleepover with one of our vets and now he's resting with his siblings. A round of ap-paws for Bret Michaels for being such a calm and brave boy, and to our vet team for their quick thinking. Little man is now on the road to recovery, and Bret Michaels is waiting patiently for his forever family! Be his hero today.
Two days later (Oct. 19), the rocker tweeted about the story, calling it "absolutely incredible."
The following day (Oct. 20), the NHS posted a heartwarming update regarding both Bret Michaels:
We've got an AWESOME update to share with you all about the fabulous Bret Michaels. As you remember, Mr. Michaels here recently helped save the life of a kitten in need. Well, word got around to THE Bret Michaels who loved the story and wanted to chat with us. One phone call later and guess who's gonna be living the rock star life from here on out? That's right! Bret Michaels (the man) is adopting Bret Michaels (the dog)! We can't wait to see how he thrives in his new home, we just hope it doesn't get too confusing when someone tells Bret Michaels to fetch!
Likewise, Michaels took to Facebook yesterday (Oct. 21) to celebrate his newest four-legged friend:
My friends - meet li'l Bret Michaels, the husky and also Roses & Thorn, the kitten he saved along with the incredible human beings & staff that worked so hard to save & improve pet lives. It takes a village of awesomeness & now I have a new mission…to find an incredible home for the kitten!
You can see all of those posts below:
The meeting of Michaels couldn't have come at a better time, as the Poison signer recently tweeted about the passing of one of his other dogs, Phoenix. "Phoenix, I love you and I'll forever miss you," he announced on Oct. 11, adding: "Your family loves you beyond anything you know and I know your brother Diesel is waiting for you to run in those fields of glory. You have been a part of all of our lives for so long and will forever be loved and missed."

READ MORE: Poison's Bret Michaels Opens Up About Skin Cancer Scare Following Medical Procedure
Speaking to People after the adoption, Michaels reflected:
I could not have been more touched and more honored to adopt Bret Michaels the husky, knowing that he gave blood to save the life of a kitten. I could not work fast enough to adopt this husky and extend the awesome quality of little Bret Jr.'s life . . . this story brought a smile back into my family's life. I work diligently with my family and many people to save and improve the lives of many pets. We have always donated to incredible pet drives and charities, and will continue to [home] Bret Jr., who ... has now found a loving family that also includes our two rescue shepherds, Nova and Draco.
Oh, and yesterday (Oct. 21), the NHS responded to all of the media attention they've been receiving regarding the adoption by asking their X followers: "ok so do any other celebrities want to adopt a dog named after them."
Well, do you? Also, what do you think about Bret Michaels adopting Bret Michaels? Let us know!
Of course, Michaels the human is currently in the midst of his "Parti-Gras" tour. You can see all of the remaining tour dates here and grab tickets here.
Brett Michaels Honors Veterans on 'Monday Night Football'
More From Classic Rock 105.1