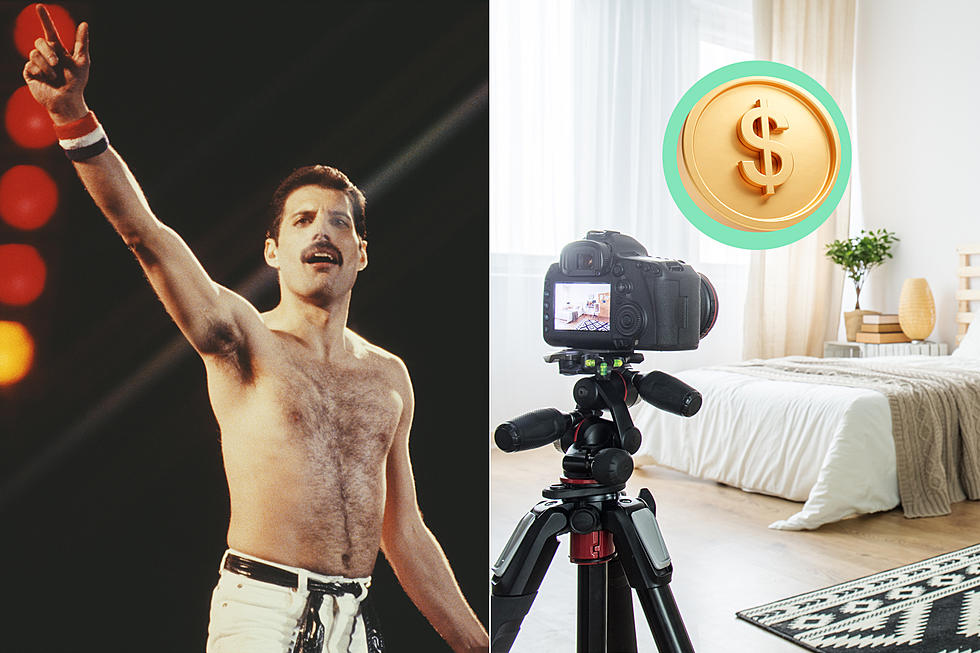 Adult Cam Platform Offers Queen $69,000 for Rights to Stream 'Fat Bottomed Girls'
Keystone / Hulton Archive / Getty Images (2)
Queen were recently in the headlines when their '70s hit "Fat Bottomed Girls" was conspicuously that was made available on the children's music player, Yoto. Seeing an opportunity, adult cam platform CamSoda has stepped in to offer Queen a place to stream the track with a lucrative financial offer.
As the removal of the track from the hits set, even in a more targeted equation, likely put a dent in the song's financial returns, CamSoda recently reached out to Queen's Brian May and Roger Taylor with an offer of $69,000 (of course) for the full rights to stream the song on their CamSoda platform. If accepted, that would mean the song would be integrated across several categories on the site.
CamSoda's VP, Daryn Parker, reached out with the offer, and the letter can be read in full below.
Dear Mr. May and Mr. Taylor,

Let me first say this, Queen is one of my greatest treasures and still gives me pleasure. My name is Daryn Parker, VP of adult entertainment leader and webcam platform, CamSoda, and as a fan of rock' n' roll and fat bottoms, we were saddened to hear Fat Bottomed Girls was removed from a streaming platform. To preserve Queen's legacy, especially with Fat Bottomed Girls, we are offering you $69,000 for the full rights to the song to play on live cam streams.

At CamSoda, we firmly believe fat bottomed girls make the rocking world go around - just as you all and Freddie expressed in the song. Every day we have girls of all shapes and sizes flaunting their bottoms for thousands of people via our webcam shows. Should you accept this offer, we will integrate the song throughout our platform. For example, if you're tuning into a webcam show and decide to leave a tip for a "naughty nanny," simply hit the tip button and the tune will play. Or when you click on our "big booty" category of models you'll be serenaded with this timeless tune.

So, won't you take us home tonight? We'd love to continue to uphold Queen's greatest hits and feel as though this is the perfect opportunity to do so. Rest assured, Fat Bottomed Girls is safe with us. We'll make sure girls' bottoms are always treasured.

Please reach out to me ASAP at [redacted]. Once aligned, we can get to work on the contract details. I look forward to hearing from you!

Regards,
Daryn Parker
VP, CamSoda
Why Was Queen's "Fat Bottomed Girls" Removed From Kids Version of Greatest Hits?
While no official reason was given by Yoto or Queen for the absence of the song on the kid friendly streaming service, Yoto did note in announcing the Greatest Hits collection that it was "the ideal introduction to the music of Queen for young music lovers and the perfect soundtrack to kitchen dance parties, road trip singalongs, bedtime air guitar sessions and much, much more."
Some have speculated the track to be a bit raunchy for young ones. Yoto Player is a screen-free kids' audio player for children 3–12. It has a programmable night light and clock, its own podcast and various family-themed music channels. The revised Queen Greatest Hits is available through its app for purchasing content, similar to how iTunes works on Apple.
It should be noted that "Fat Bottomed Girls" has not been removed from any other version of Queen's Greatest Hits, which was first released in 1981 and has since been re-packaged and re-released in various forms all over the world. The song has only been subtracted from the Yoto version.
But that didn't stop a bit of social media outrage with fans calling out wokeness and cancel culture over the song's removal.
READ MORE: The Original Song Title for Queen's 'Bohemian Rhapsody' Has Been Revealed
Was "Fat Bottomed Girls" a Hit for Queen?
While Queen had a significant number of hits throughout their career, "Fat Bottomed Girls" was one of the more modest ones, topping out at No. 24 on the Billboard Hot 100 in the U.S. It's biggest charting success came on the Dutch, French and Norwegian singles charts, hitting No. 7 on each chart.
The song has retained its popularity over the years, being certified as a double-platinum selling single in the U.S.
The track was initially released as the lead double single off of the band's 1978 Jazz album, paired with "Bicycle Race." The song, as the titled suggests, is an ode to voluptuous women. You can revisit the song below.
Queen, "Fat Bottomed Girls"
55 Best Metal Covers of Classic Rock Hits
More From Classic Rock 105.1