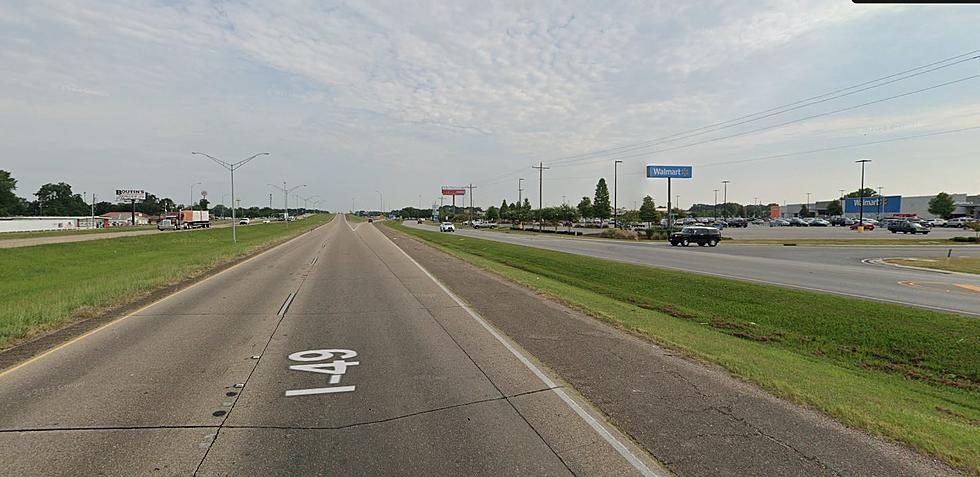 Traffic Closures Happening TODAY on Interstate 49 in Lafayette Parish, Louisiana
I-49 at Carencro Exit, google street view
LAFAYETTE, La. (KPEL News) - Louisiana Department of Transportation and Development crews are working on Interstate 49 in Lafayette Parish today as traffic closures are expected to last for most of the workday.
Workers are making roadway repairs on I-49, causing them to close the right outside lane of I-49 Northbound at Exit 4. This is one of the Carencro exits. According to one KPEL listener, the lane closure is extending to Exit 2, which is the Gloria Switch exit.
The closure is expected to last from 8:00 a.m. until 3:30 p.m. The road will be open to regular traffic with no width restrictions. The Exit 4 Northbound off-ramp will remain open.
Emergency vehicles will have access to the area, but may experience delays. No detour route is necessary.
Nighttime Lane Closures Extended From Lafayette to Acadia/Jeff Davis Parish Line
DOTD workers are also busy working on a long stretch of I-10 from Lafayette to the Acadia/Jeff Davis Parish Line..
Since the beginning of the year, crews have been conducting lane closures on the weekends as construction workers have been closing the inside lanes in BOTH DIRECTIONS between the I-10/I-49 Interchange in Lafayette and mile marker 66 (Acadia/Jeff Davis Parish Line). That's roughly a 37-mile stretch that workers have been installing new traffic cable barriers, embankment, and drainage structures in the median.
Well, the closures are being extended again to Friday, September 29th.
These inside lane closures will continue to occur during the following times, weather permitting:
• Sunday – Thursday: 8:00 p.m. – 6:00 a.m.
• Fridays: 9:00 p.m. – 9:00 a.m.
• Saturdays: 8:00 p.m. – 10:00 a.m.
There will be no vehicle width restrictions associated with these closures.
Louisiana Highway 737 (North Portage Highway) at the Grand Canal Bridge in St. Martin Parish Closed
DOTD crews are also working on at this location about 1.45 miles east of LA 686, replacing the bridge. The work began on Monday, August 14 at 7:00 a.m. and for approximately six more weeks.
Detour: Consists of LA 686 and local roads. Signs will be posted.
Emergency vehicles will not have access through the area.
Most Expensive AirBnb Stays in Lafayette
If you're looking for a staycation for yourself, or recommending a 5-star stay in Lafayette for friends and family, check out these short-term rentals.
LOOK: The longest highways in America
20 States With The Worst Roads In The Country
More From Classic Rock 105.1