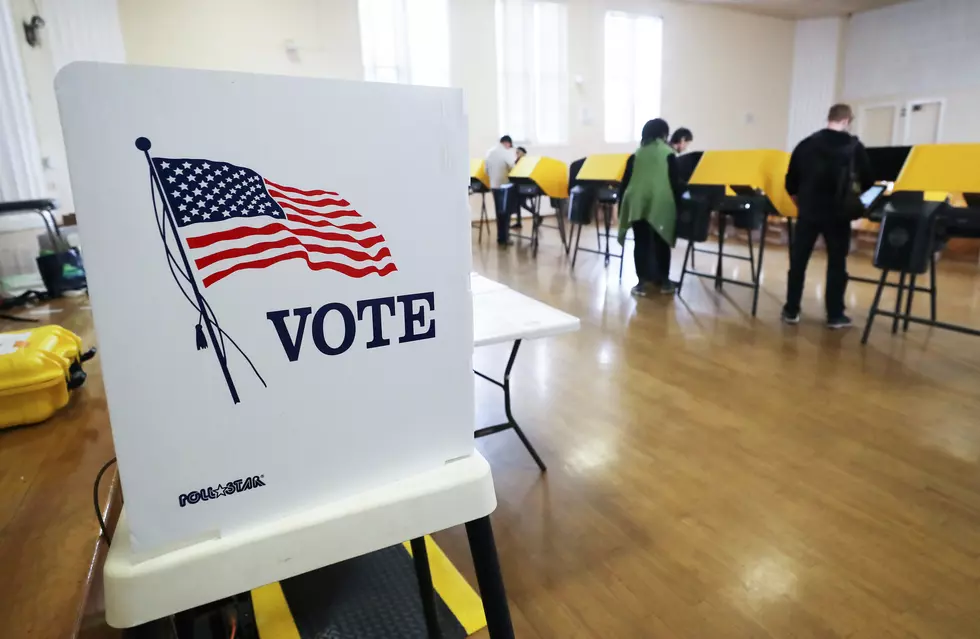 New Poll Shows 1/3 of Lafayette Voters Are Undecided for Mayor-President
Mario Tama/Getty Images
LAFAYETTE, La. (KPEL News) - A new poll from a private group based out of Shreveport shows a high number of Lafayette residents appear undecided about next month's Mayor-President election.
The bad news for the incumbent, Josh Guillory, is that his negatives are high in this poll, which comes from Vantage Data House. However, there are several areas of concern about the source of the poll and the data within.
KATC was the first to report on the poll, which shows a much tighter race than originally suspected in the parish-wide race. The results from that poll show a close-fought race between the three candidates - Guillory, Monique Blanco Boulet, and Jan Swift.
The data from this survey indicate Josh Guillory is quite vulnerable in his re-election bid. A majority of voters give him higher negative than positive favorability ratings and 61% give him negative job performance ratings.

Monique Blanco Boulet and Jan Swift receive at least a 2:1 positive to negative ratio on their image dimensions. Monique Blanco Boulet holds a slight advantage over Jan Swift at this point in the election cycle but either of the women are in an excellent position to defeat Josh Guillory in the run-off. It is clear from both the data related to "second choice" and the run-off scenarios that either Boulet or Swift will win this race. It is even more certain if one of these candidate is in a run-off with Guillory.
However, the poll also shows a high number of undecided voters: Nearly 1-in-3 voters aren't sure who they would vote for. What's more, 15 percent of those polled aren't sure they're going to vote.
The poll also has a margin of error of 5.4 percent, a high swing one way or another for any of the candidates.
Of those polled, a majority were female, and less than half were Republican - the latter breakdown being at odds with voter turnout in recent elections held in Lafayette Parish.
Vantage Data House is a membership-based group that gets private access and analysis of polling data in Louisiana. It was specifically set up to offer non-partisan looks at the data. However, the incumbent in the race blasted the group and the poll.
"The so-called 'non-partisan,' Shreveport-based organization that paid for the 'poll' and 'doesn't work for candidates' was created in June, and the founder is friends with my opponent," Guillory said in a statement posted to Facebook. "The 'unbiased pollster' the organization hired is actually, by their own admission, John Bel Edwards' pollster and communications advisor.
"To make it even worse," he added, "their 'poll' included 15% of people who aren't even voting and a secret pay-to-play panel, that they won't divulge."
While Vantage Data House analyzed the data, the poll appears to have been run by The Kitchens Group, which works largely with Democrats in the state of Louisiana and was Democratic Governor John Bel Edwards' pollster.
Guillory also blasted Vantage Data House as being tied to his opponent, Boulet.
"They think you're stupid," he wrote on Facebook. "You're not. They think you don't know, but I know that you do. Under no circumstances will we let the old-school Louisiana liberal machine take over and destroy this parish. Not going to happen."
Guillory's opponents responded to the poll results as well, according to KATC.
Here's the comment from Swift:
"Clearly, my message is what the citizens of Lafayette parish want. I'm a lifelong Republican conservative of 42 years who is ready to fight to end waste fraud and corruption in consolidated government and who is ready to open up the politics of our parish to the average citizen so a small number of connected people no longer are making decisions that benefit themselves while not benefitting the vast majority of our citizens. This is my fight for change. It is a fight being joined by many. I'm grateful!"

 

Here's the comment from Blanco Boulet:
"These poll numbers reflect the feedback we hear everyday: Lafayette wants leadership it can be proud of. I am the candidate with momentum because my record of integrity and success in public service is a direct contest to my opponent's record of corruption and mismanagement."
The election will be held on October 14, 2023. Guillory, Boulet, and Swift are all listed on the ballot as Republicans.
Things Lafayette Adults Get Excited For That Kids Find Ridiculous
Buckle up, because we're about to explore 8 things that make Lafayette grown-ups jump for joy while leaving kids scratching their heads and thinking, "Wait, seriously? They're excited about that?"
Gallery Credit: Joe Cunningham