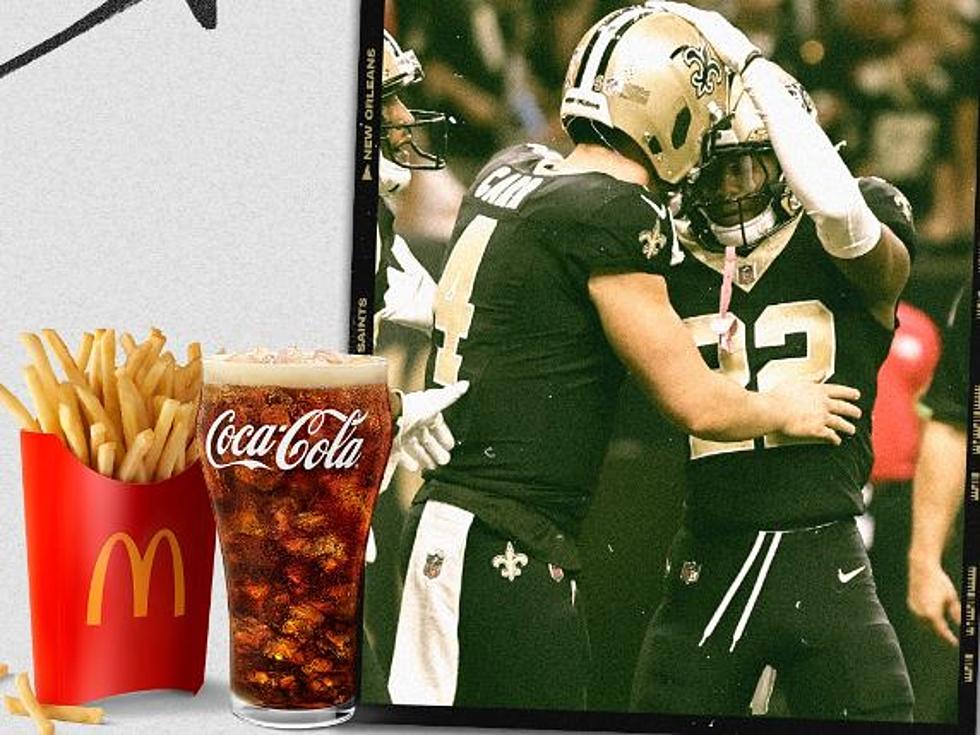 McDonald's Announces Free Food Giveaway Following New Orleans Saints Win
McDonald's Food and New Orleans Saints, Facebook via New Orleans Saints
NEW ORLEANS, La. (KPEL News) - New Orleans Saints fans have another reason to love McDonald's following Sunday's opening game win against the Tennessee Titans.
While it wasn't the prettiest win, Sunday's game featured many amazing moments that led to the Saints 16-15 victory.
Steve Gleason Serves as Honorary Captain at the New Orleans Saints Home Opener Against the Tennessee Titans
As he continues his relentless fight against ALS, the former special teams star Steve Gleason made his presence known at the Saints game as he served as an honorary captain, alongside former Titans LB Tim Shaw.
Jimmy Graham Leads Pregame Chant Before New Orleans Defeats Tennessee
In an incredible moment before the game began, Jimmy Graham completed his return to New Orleans by leading Who Dat Nation in the pregame chant. It was amazing to say the least!
Defense Shines as New Orleans Holds on Against Tennessee
The Saints defense held strong throughout the day as the didn't allow the Titans to score a touchdown, forcing field goals that ended up leaving Tennessee one point short.
Derek Carr Passing Touchdown Leads to Free McDonald's Food for New Orleans Saints Fans
Speaking of scoring touchdowns, the New Orleans Saints scored the only touchdown of the game - a 19-yard pass from Derek Carr to Rashid Shaheed.
That play not only gave the Saints a 16-9 lead that ultimately led to being just enough to hold on, but the touchdown allowed McDonald's to make this cool announcement!
Yes, McDonald's will give away FREE LARGE FRIES and FREE LARGE SOFT DRINK with any purchase the Monday after the Saints score a touchdown. All you have to do is download the McDonald's app!
I love the salty taste of McDonald's fries and their version of Coke is always a treat!
I'm lovin' it!
Check Out The McMansion! Most Extraordinary McDonald's in the World Here in NY
The home was built in 1795 for the Denton family on Long Island who is the founder of the town of Hempstead. It was an 18th-century farmhouse. McDonald's bought the property in 1985 with plans of leveling the home and building a fast food restaurant. That's when the residents of the Town of Hempstead stepped in to try and save the historic home according to
Atlas Obscura
. McDonald's agreed to restore the mansion in exchange for allowing them to build a drive-thru lane. Check out this unique and extraordinary McDonald's that is known as the Denton House McDonald's or the McMansion!
More From Classic Rock 105.1