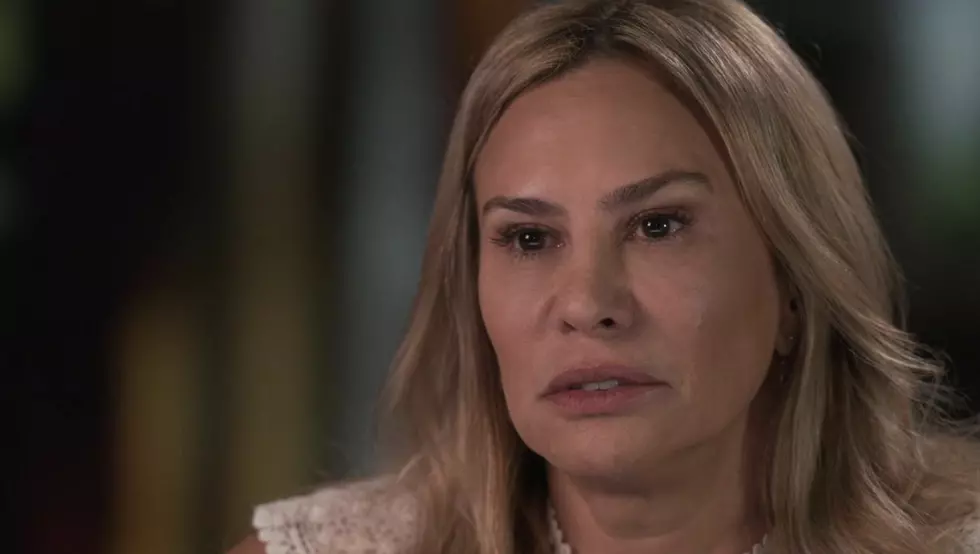 Lafayette Mother Recalls Violent Kidnapping From Her Home, Cop Who Unknowingly Saved Her Life on '48 Hours'
48 Hours
Lafayette, Louisiana was featured on a recent episode of '48 Hours' as Schanda Handley recounted events before and after a violent kidnapping for the first time since the harrowing incident unfolded back in 2017.
Handley and her daughter Isabella sat with CBS Lead Correspondent David Begnaud and "48 Hours" to give her first television interview, detailing a day that neither of them would ever forget.
Back on August 6, 2017, Handley and her daughter Isabella were at home in the quiet suburbs of Lafayette, La when the doorbell rang around 2:30 in the afternoon. Handley told Begnaud that two men posing as delivery drivers forced their way in with guns, shouting commands to get down on the floor.
They started to scream … to 'get the F on the floor,' and 'don't move,'
Handley says the next thing she remembers was being handcuffed and thrown into the back of a van.
I'm hooded. They hooded me as soon as I went into the van. It was a van that didn't have the windows in the back. And it was just a rubber mat without seats back there, and -- laid me on the floor
One of her kidnappers held her down in the back of the van while holding a gun to her head, forcing pills into her mouth while the other kidnapper "drove them out of town." As she slipped in and out of consciousness, Handley says she can remember their threats "to sexually assault her and then kill her."
She recalls praying; and when she heard sirens, she had no idea her prayers would soon be answered in near miraculous fashion.
Chad Martin is an Iberville Parish Sheriff's deputy who was on his way home for Sunday dinner. Even though he clocked out for the day, he was still in his squad car.
Martin noticed the driver of the van repeatedly looking in the side mirror. He had no idea the man nervously looking back at him had just kidnapped a woman from her Lafayette home across the basin. To Martin's surprise, the van took off—so he gave pursuit until the van ended up down an unpaved roadway where it got stuck in the mud.
Two men jumped out of the van, took off running, jumped into the Intercoastal Waterway, and quickly disappeared.
When Martin went back to investigate the abandoned van he was shocked when he came face to face with a naked, handcuffed Schanda Handley. At that moment, he realized that he made what '48 Hours' described as "the rescue of a lifetime."
Handley told Martin what happened to her as he relayed it across to dispatch. Immediately, Handley suspected her estranged husband was behind her violent abduction.
Michael and Schanda Handley met through friends in 2005 at a time when both of them were coming out of "failed marriages." That wasn't the only thing they had in common as both of them were in recovery from addiction.
At the time, Schanda had been clean for 18 years while Michael was only one year into his sobriety journey. Fast forward to one year later and the couple tied the knot in Hawaii. In 2007, the couple decided to take another major step, partnering with a doctor to launch a chain of addiction treatment centers.
It was a concept that started with Schanda and Michael "channeling their experience in recovery into a new business," and business was so good that they would end up opening 14 different centers throughout the south.
In 2015, the Handleys and their partner would sell the company for $21.5 million.
But the saying "more money, more problems" rang true over the next two years as Schanda says she found a bottle of Adderall with her husband's name on it and would soon discover that he had been seeing another woman on the side. She demanded that Michael seek treatment, but when her requests were refused, she locked him out of her life—both literally and figuratively.
I change the locks, and Michael was locked outta the house. And he started to lose his mind at that point … and so after a coupla weeks, he said, "You're gonna regret this." And then that turned into, "I'm telling you, it's gonna get bad."
Things only escalated from there, as accusations of assault led to charges for Schanda who would later be acquitted by a judge. Schanda says she begged and begged for authorities to realize "she was the one in danger." Investigators began to see what Schanda had been saying all along as she recovered in the hospital.
Speaking of investigations, as police looked into the last place her abductors had been seen, it was realized that they ultimately drowned in the Intracoastal Canal due to its "unforgiving current."
According to '48 Hours', Schanda's abductors were identified as Sylvester Bracey and Arsenio Haynes; and with both main witnesses (the kidnappers) dead, it would be tough to pin any of this on him.
As detectives ran the VIN on the white van used to abduct Schanda, it led them to an Enterprise dealership that confirmed that a "Lawrence Michael Handley" came in to rent the van just days prior. Police also had Handley purchasing handcuffs on surveillance video.
They had to keep Schanda safe, so upon her release from the hospital, she was sent to a safe house while investigators continued to put the pieces together when it came to proving Michael Handley was behind Schanda's abduction.
Schanda knew how manipulative and erratic Michael could be in his efforts to harass and monitor her every move.
Michael's behavior was growing increasingly erratic. Even though he was the one to initially file for divorce in the spring of 2017, he soon changed his mind and Schanda says now he was demanding they reconcile, or she'd pay a humiliating price.
Michael made good on that threat, even going as far as releasing intimate videos of Schanda to friends, neighbors, and family members. She recalled a time just two months before her abduction when her estranged husband managed to slip into the house through the garage.
He was enraged. He reeked of alcohol. He was — he was furious … And he had me pinned up against the wall. And … I screamed, "Isabella." Well, he put his hand over my mouth, and he pulled out a gun, a 9mm - and he said, "If you scream or anybody comes to interfere, I will shoot you both. I will kill you both. Do you understand me?"
Schanda says she eventually convinced Michael to leave but was "100% positive" he would kill her. Investigators who looked into Schanda's allegations after her abduction found that she filed "dozens of reports" but Michael was never arrested. Somehow he always managed to evade police, or he was completely out of state.
But now, Michael knew the police were on to him. And the police were aware of this because, at some point, he tried to charter a private flight and the pilot informed him that he wouldn't be taking him anywhere because he was a "wanted man."
As Michael continued to duck the authorities who were out to get him, he managed to text Schanda from a strange number.
"pay the ransom for your husband" and "pay us 500 large or we will send him home in pieces." A day later, friends received a shocking photo of Michael — he was nude, handcuffed, and seemingly injured.
Investigators already knew it couldn't be Schanda's kidnappers, continuing their search for Michael Handley. Finally, on August 11 2017 police were able to apprehend Handley in an "off-ramp motel" in Slidell where they found "nearly $10,000 in cash, pizza boxes, and illicit drugs."
They also found a "to-do" list that was very concerning as it seemed as if Handley planned on finishing the job on his estranged wife.
Michael Handley lawyered up and pleaded not guilty to a variety of charges, including conspiracy to commit second-degree murder. He claimed he hired kidnappers to move furniture—which is why he rented the van. He crafted a defense that painted the movers as men who "went rogue" and used his wife in an effort to collect a ransom.
The challenge was always proving that Michael was behind the violent abduction; and just when it felt like he would find a way to slip away again, Schanda found something while cleaning up their property in Mississippi that would blow the case wide open.
Michael Handley used a camera called Arlo for security, and the camera was activated by motion and speech. Either (or both) of those things would trigger the Arlo camera to begin recording video.
Handley was caught on surveillance talking about killing "her." At another point, he's chatting with a friend about Schanda in the living room of the Mississippi home where she located the camera.
But one clip actually showed Michael with one of his wife's kidnappers.
just two weeks before the kidnapping… Michael Handley is caught with Sylvester Bracey at that property planning how it was the perfect place, prosecutors say, to bring Schanda to torture her — and possibly worse.
Meanwhile, Michael was still harassing Schanda from the Lafayette Parish Correctional Center. Lots of letters were sent and Michael was even managing to call his estranged wife from behind bars.
At the same time, his defense team was arguing that Michael suffered from mental illness and was not guilty by reason of insanity.
Michael's defense team submitted mental health records showing that he suffered from bipolar disorder complicated by drug addiction, which they say rendered him legally insane during the time leading up to the kidnapping. Two court-appointed doctors agreed. But the judge ruled Michael was competent to stand trial and must remain behind bars.
During this time, Schanda was able to finalize her divorce from Michael, and surprisingly, he agreed to a deposition with Schanda's divorce attorney.
Michael answered 10 hours worth of questions over the course of three days while prosecutors were also present to hear what he had to say. His attorney said it was the most nervous he had ever been.
For the most part, Michael stuck to his original story about the movers going rogue because they thought he had money.
At one point, Schanda's lawyer pulled out the Arlo camera and played by the damning footage of Michael talking about the plot to kidnap Schanda with one of her abductors.
And I said, "What kind of movers tell that to you?" And his fear was palpable, and he said, "Oh, I don't know Christine, people tell me all sorts of things."
Michael was poking holes in his own defense and just hours before his trial was to start, he notified authorities that he was open to a plea deal. While Schanda wrestled with the decision that was ultimately hers to make, the thought of her daughter Isabella was the one thing that pushed her over the edge to simply accept his plea of guilty to second-degree kidnapping in July 2021.
On March 24, 2022, nearly a year later, Michael's sentencing had finally come. Isabella gave a victim statement, telling Michael how her mother's violent abduction ruined her life and impacted her in ways she'll never be able to reverse.
Schanda also had words for her ex-husband.
I told him that he wrecked everything, and that he destroyed everything, … and how could you … like, we had, like, a really — we had a good life. We … had a good family. And we … we adored each other. … He was the person I most admired in this world until then.
Finally, it was Michael's turn to speak; and instead of offering an apology to Schanda and Isabella, he decided to make an admission that "he did, in fact, hire the two men to kidnap Schanda. But he claimed it was all fake, and staged so that he could swoop in, save her, and be the hero."
The judge still sided with the prosecution, giving Michael the maximum penalty of 35 years in prison, minus five for time served.
The "48 Hours" special reveals what Schanda has been up to since putting her ex-husband away but also brought Schanda together with someone for the very first time. Until the special, Schanda never got to thank Chad Martin, the deputy who unwittingly saved her life.
See more details, twists, and developments as well as the latest updates on Schanda's new mission in life as well as Michael's recent efforts to appeal his sentence here.
25 True Crime Locations: What Do They Look Like Today?
Below, find out where 25 of the most infamous crimes in history took place — and what the locations are used for today. (If they've been left standing.)