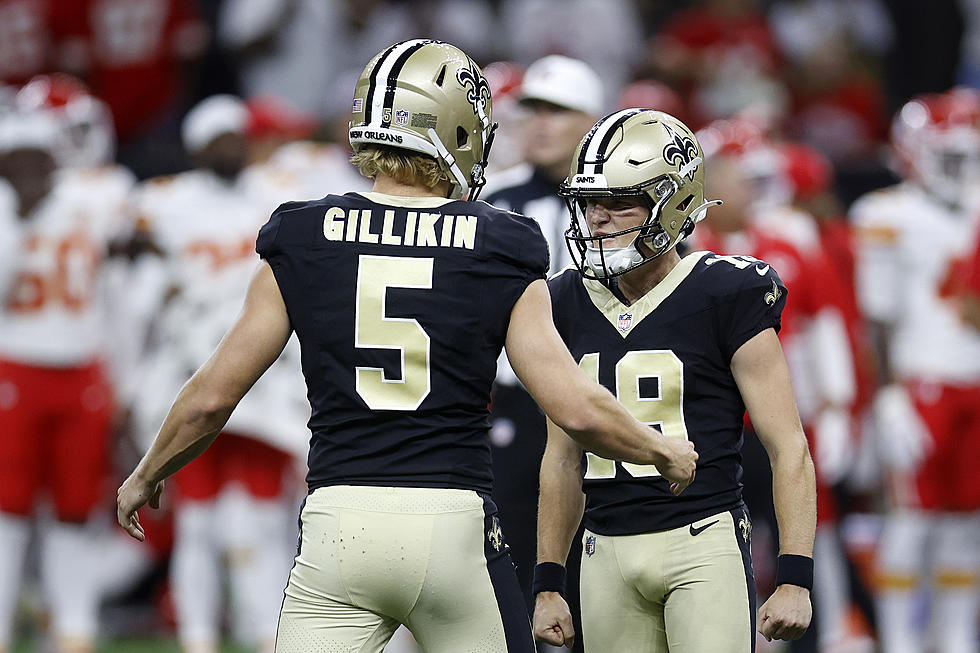 Saints Rookie Kicker Blake Grupe Hilariously Mistaken for Fan (Twice) Despite Kicking Game-Winner
Getty Images
He's known as a pocket-sized powerhouse in New Orleans, but Saints kicker Blake Grupe's stature may be a little too close to the average fan as he found out Sunday before (and after) kicking the game-winning field goal vs. the Chiefs.
The Saints' newest placekicker, Blake Grupe, pulled off a clock-beating magic trick with a 31-yard game-winning field goal during his first-ever preseason appearance. His performance was so polished that even the most seasoned fans had to do a double-take to ensure they weren't watching a seasoned vet in action.
But here's the kicker (pun totally intended) - while Grupe was charming everyone with his kicking finesse, the Superdome's security team apparently missed the memo. Instead of recognizing him as the gridiron hero du jour, they mistook the undrafted rookie for a superfan who had strayed a bit too close to the action. Standing at a not-so-intimidating 5-foot-7 and 156 pounds, Grupe might have seemed more like a high school mascot than a professional kicker.
Grupe, with his good-natured sense of humor, later took to Twitter to reveal the comedy of errors. It turns out that he had to field questions from security both before and after the game. The security team's dedication to their job was truly impressive - they were determined to verify if this vertically challenged figure was indeed meant to be on the field. Grupe handled it with a dash of humility and a sprinkle of gratitude, tweeting, "Stay humble. Thankful. Great team win!"
While security may have been fooled by Grupe's size, the Saints management were not. They picked up the kicker as an undrafted free agent from Notre Dame back in April, fully aware of his knack for turning extra-point attempts into pure gold. For what it's worth, he's currently boasting a 100% success rate in the NFL.
Don't get it twisted—Grupe's accuracy is not just a fluke. His college days at Arkansas State and Notre Dame had seen him consistently nailing field goals at an impressive 74.3 percent average.
And now, his aim is so spot-on that some are saying he is giving seasoned Pro Bowler Wil Lutz a run for his money. Lutz had been holding down the kicking fort for the Saints since 2016, but with Grupe's star on the rise, the competition for the ultimate kicking crown was heating up.
So, it seems like the Superdome's security might be getting a crash course in recognizing their own players, as Grupe continues to shine. Who knows, by the time the preseason dust settles, those tight security guards might be asking for autographs instead of identification!
READ ON: See the States Where People Live the Longest
Read on to learn the average life expectancy in each state.