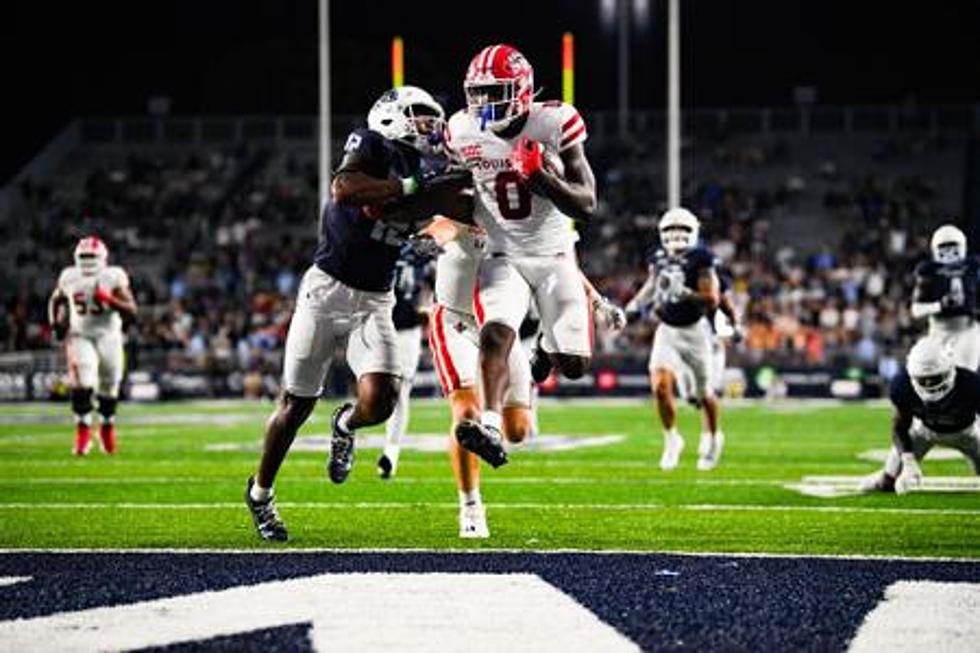 Shaking Out the Good Stuff: UL Football Player Jacob Kibodi Surprised With Full Scholarship From Coach Desormeaux
Louisiana Ragin' Cajuns Athletics
One of the most fantastic things on social media will always be when a parent or spouse serving in the military comes home to surprise their loved ones.
Those videos will always get you in the feels.
Right after that for some of us sports fans comes the clips of college coaches speaking glowingly about a walk-on player to their team, only to surprise that player with a full scholarship.
That happened recently for one Louisiana Ragin' Cajun football player.
Running back Jacob Kibodi got the news from head coach Michael Desormeaux as the latter addressed the team in a meeting. Here's how it unfolded:
As Coach Desormeaux said, Kobodi went from a walk-on to getting a scholarship this past spring and summer.
However, because of his amazing work ethic and the fact that he did all the things that the coaching staff asked of him, he has now been awarded a full scholarship for the rest of his playing days at UL.
Kobodi prepped at Christian Life Academy in Baton Rouge and was a fairly high-level recruit. In 2017, he signed with Texas A&M.
However, he didn't see a whole lot of playing time in College Station, so a transfer closer to home happened before the 2021 season.
Over the next two seasons, Kibodi didn't get a whole lot of playing time.
That's changed thus far this year, his redshirt senior season. And this past Saturday against Alabama-Birmingham, Kibodi showed out.
For the game, he rushed for 108 yards and a touchdown in the Cajuns' impressive 41-21 win on the road against UAB.
On the young season, Kibodi is leading the Ragin' Cajuns in rushing, gaining 211 yards on 26 carries. His long run is 59 yards.
Kibodi also has one reception for 37 yards and a touchdown.
Congratulations again, Jacob! Thanks for showing us that perseverance and hard work will always serve you well.
Former Ragin' Cajuns on 2023 NFL Rosters
Here is a list of former Louisiana Ragin' Cajuns football players that are currently on NFL rosters, whether it be active, practice squad or injured reserve.
More From Classic Rock 105.1