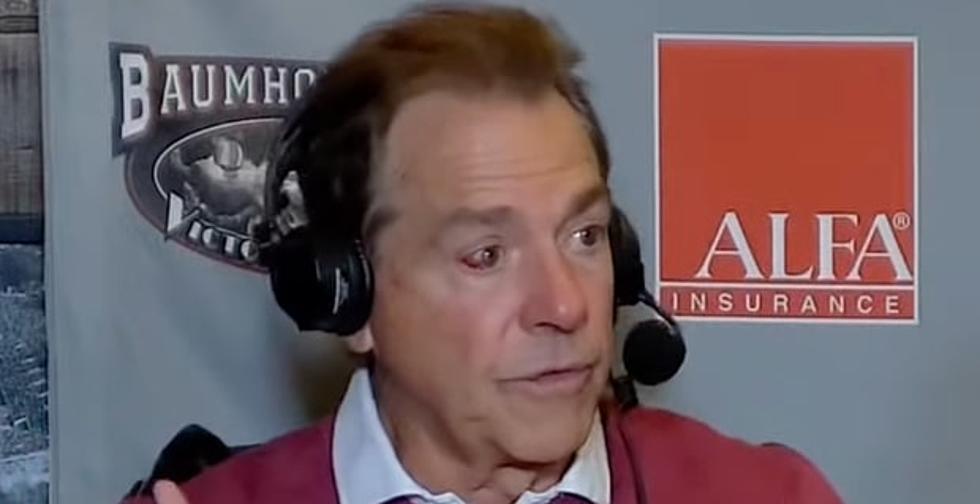 Nick Saban Appears on National TV With Bloodshot Eyes, You Won't Believe How He Got Them Looking That Way
Crimson Tide Sports Network
Nick Saban looked quite a bit different on Thursday as he appeared on ESPN's Pat McAfee Show.
To be quite frank, he looked like hell! His eyes were bloodshot (especially the right one) and his complexion looked a little pale.
So what happened?
At one point during the show, McAfee asked Saban if he burst a vessel lifting weights. Saban replied by saying he had no idea how it happened and that he felt no pain.
To quote the great Lee Corso, "Not so fast my friend!"
Say bruh, what really happened?
Apparently, on his weekly radio show Thursday night, Saban revealed what the doctor told him.
"He said, 'You know you can get this from yelling,'" Saban said about his conversation with his doctor. "He said, 'You've got it from yelling. There's nothing wrong with you. You just got it from yelling. You busted a blood vessel from yelling too much.'"
So the 72-year-old still has quite the temper? We know, color us shocked.
There's still a big game to be played.
Bloodshot eyes and all, Saban's Alabama Crimson Tide will be doing battle with the LSU Tigers this Saturday, November 3rd at 6:45 p.m. at Bryant-Denney Stadium.
Alabama is 7-1 overall and 5-0 in SEC play, while LSU comes in 6-2 overall with a 4-1 conference record.
The Tigers need a win to stay in the hunt for the SEC West crown and a bid to the SEC Championship Game on December 2, 2023.
Interstate Speed Traps Between Lafayette and Tuscaloosa
Heading to the LSU-Alabama game? Well, we thought we'd help you out with some of the speed traps on the interstates between Lafayette and Tuscaloosa. Here are some that we've seen on our travels.