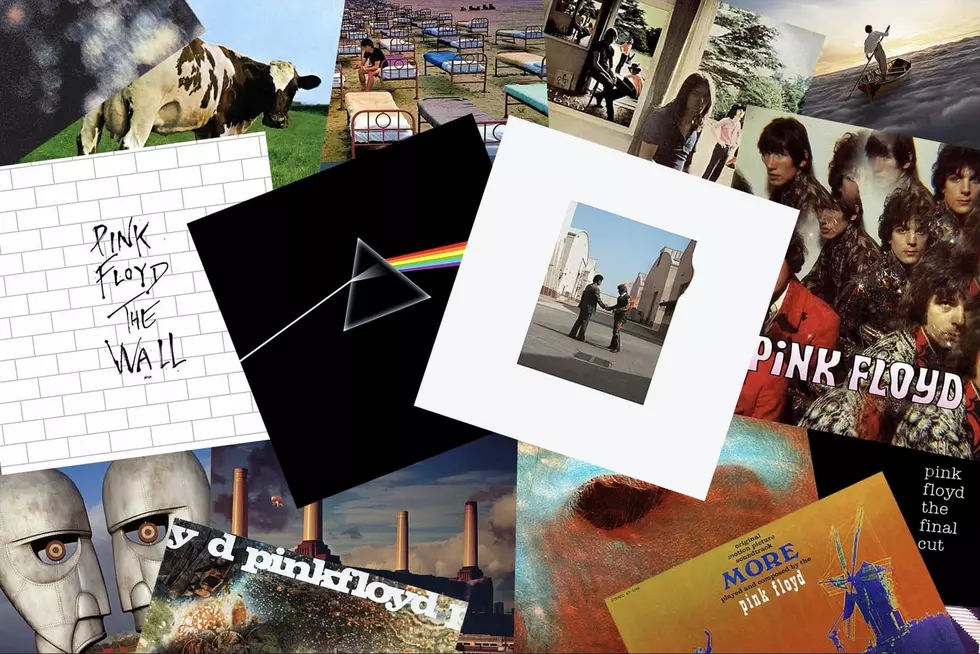 The Worst Song on Every Pink Floyd Album
UCR
At their best, Pink Floyd was many things: whimsical psychedelic pranksters, agitprop moralizers, weirdo experimenters, space-rock bluesmen and album-length social commentators.
Traveling such a broad musical expanse inevitably led to a few blind alleys. A few of their albums went further still, with songs that flew right past the warning signs only to smack into a dead end. None of them was without a moment (or two) that at the very least prompted some head-scratching.
Those are the tracks we're focusing on below. We've sorted through everything from the least of the Syd Barrett era to the dregs of the David Gilmour era – with plenty of Roger Waters missteps in between.
"Pow R. Toc H."
From: The Piper at the Gates of Dawn (1967)
Syd Barrett co-wrote the lesser of two instrumentals on Pink Floyd's debut album. They all make silly noises that resemble percussion before the bulk of the song rides the ups and downs of Richard Wright's piano playing. This is screwing around in the studio circa the late-'60s.
"Corporal Clegg"
From: A Saucerful of Secrets (1968)
A recording that dates from Pink Floyd's uneasy transition as Barrett departed, this Roger Waters-penned song features a rare lead vocal from Nick Mason, a kazoo played by David Gilmour and bouts of laughter in the backing vocals. It's kind of fun, which is disturbing for a tune about an unstable veteran (the first hint of Waters' World War II obsession).
"A Spanish Piece"
From: More (1969)
This harmless but forgettable goof is less notable for Gilmour's flamenco work or his poor approximation of a Spanish stereotype than for being the guitarist's first solo songwriting credit in Pink Floyd. He got better.
"Several Species of Small Furry Animals Gathered Together in a Cave and Grooving with a Pict"
From: Ummagumma (1969)
Pink Floyd meets the Chipmunks. If you were grading songs merely by how many times you listen to them again, Waters' Ummagumma experiment with vocal effects and tape speeds might land at the very bottom. Yet there's something impressive lurking amidst the rhythms he creates out of his nattering, pretend woodland creatures. Plus, the track's "Scottish" farmer presages Waters' embodiment of The Wall's fearsome schoolmaster.
"Alan's Psychedelic Breakfast"
From: Atom Heart Mother (1970)
This 13-minute slab of musique concrete fulfills a request that (probably) no Pink Floyd fan ever made: "What does roadie Alan Styles like for breakfast, can we hear him making it and could the guys in the band noodle around (in a very non-psychedelic manner) as he fries bacon, muses about marmalade and pours a bowl of Rice Krispies?" Now, who's hungry?
"Seamus"
From: Meddle (1971)
Another goof, this song features Steve Marriott's titular dog howling along with Gilmour, Waters and Wright as they play a rudimentary blues. Among fans, "Seamus" is a perennial candidate for the stupidest track in the Pink Floyd catalog. It's certainly the worst song on an otherwise great album.
"Absolutely Curtains"
From: Obscured by Clouds (1972)
The closer for Pink Floyd's second soundtrack album for director Barbet Schroeder incorporates the film's New Guinea setting by gently transitioning from a restless instrumental into a chant by the Mapuga tribe. The latter is more interesting than the former.
"Speak to Me"
From: The Dark Side of the Moon (1973)
This is hardly a song, but it is a strange sort of overture that subtly previews much of what's to come on Dark Side (clattering money, crazy laughter, ticking clocks). Of course, the "heartbeat" is the most distinctive element, connecting the LP's first and last tracks to fashion an infinity loop of human experience.
"Welcome to the Machine"
From: Wish You Were Here (1975)
There are no bad songs on Wish You Were Here, including this one. This is studio shenanigans at their finest. Whether Waters' song is about the "machine" of the music industry or a dystopian, machine-ruled society, the track's human/mechanical dichotomy is personified by Gilmour. Not only do his warm-blooded acoustic guitars strum amidst invasive and bloodless synthesizers but his lead vocal is also treated to sound like an emotionless, robotic overlord – a ghost in the machine. "Welcome to the Machine" squeezes gallons of unease from its terse lyrics while making the most out of every tick, buzz, thump and hum. The layers of sound are so skillfully realized, it's like the song was recorded in 3D.
"Pigs on the Wing (Part 1)"
From: Animals (1977)
It's no secret that love songs are not Pink Floyd's (and certainly not Roger Waters') strength. In keeping, this LP's acoustic bookends don't celebrate love as much as classify it as a better alternative to the miseries of modern life. Sonically simple (just voice and guitar), "Part 1" can be praised for its brevity and lightness in introducing the album's gloomy concept.
"Don't Leave Me Now"
From: The Wall (1979)
No album spans the best, middling and worst of Pink Floyd like The Wall. There are less consequential songs from the double LP, but none more unpleasant than this plodding exercise in dissonance and misogyny. In character as the depressive, delusional and violent rock star named Pink, Waters whines "Why are you running away?" (for the second time in two tracks; it's also the final line of "One of My Turns"). As Pink, Waters longs to resume his abusive ways, but the real torture is listening to his screechy, alley-cat yelp.
"Two Suns in the Sunset"
From: The Final Cut (1983)
Waters' tenure in Pink Floyd (give or take a Live 8 appearance) culminates in a nuclear holocaust. It's a strangely stone-faced protest song spiked with scare tactics – including a line about never again hearing your loved ones' voices followed by a girl screaming "Daddy, Daddy!" You know, just in case lyrics such as "As the windshield melts and my tears evaporate, leaving only charcoal to defend" were too subtle. And, even worse than an atomic fireball, Waters tacks on a cheesy sax solo to deliver us to the apocalypse.
"A New Machine (Part 1)"
From: A Momentary Lapse of Reason (1987)
It's tough to decide what is more annoying about "A New Machine." Is it David Gilmour's naked attempt to connect the new-recipe Pink Floyd to the band's classic material (vocoder, robotic vocals, short bookend tracks to a larger piece, the obvious reference to "Welcome to the Machine")? Or is it just the grating, melody-deprived sound of Pink Floyd's new leader howling for high concepts in empty lyrics?
"A Great Day for Freedom"
From: The Division Bell (1994)
Not to be outdone by Waters' cynicism about world politics, Gilmour (with help from future wife Polly Samson) takes a pessimistic glance at post-Soviet Europe. The critiques are fair, but the song's a gray-colored drag that can't even be saved when Gilmour trades the microphone for a guitar.
"Side 3: The Lost Art of Conversation/On Noodle Street/Night Light/Allons-y (1)/Autumn '68/Allons-y (2)/Talkin' Hawkin'"
From: The Endless River (2014)
Side 3 is not without its charms: Chief among them is "Autumn '68," which spotlights a snippet of Wright's organ playing from the early days of the band – and carries a title that's a nod to his lovely song, "Summer '68." If the bookends of "Allons-y" are "Run Like Hell" soundalikes, they certainly sound distinctively Floydian. But the rest represents the least impressive suite of material on The Endless River.
Rock's Ugliest Band Breakups
Ugly band breakups are a sad fact of life in the world of classic rock – along with death, taxes, hair loss and yes, profitable reunion tours.
When Alice Cooper Got Stoned with Pink Floyd
More From Classic Rock 105.1