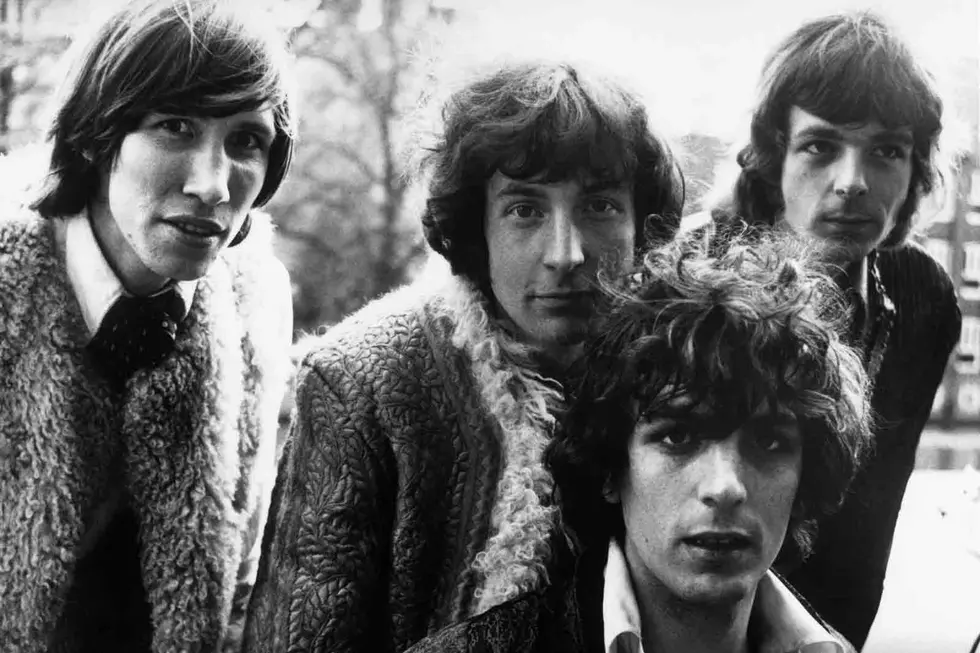 55 Years Ago: Syd Barrett Splits With Pink Floyd
Keystone Features / Hulton Archive / Getty Images
In January 1968, the members of Pink Floyd were on their way to a show in Southampton, England. One of them asked if they should divert to collect Syd Barrett. Another replied, "No, let's not." With that, the former bandleader's days were numbered. That number came up on April 6, 1968, when the band officially announced Barrett's departure from the lineup.
His tenure as the band's leading creative force resulted in the psychedelic rock milestone The Piper at the Gates of Dawn, released in 1967. The album showcased his distinctive worldview with a barrage of unusual characters combined with atypical arrangements that grew out of experimental jam sessions. But as the group drew attention to the light-and-sound approach to its live shows, work on the second LP, A Saucerful of Secrets, began to be hampered by Barrett's developing detachment from everything around him.
His final appearance had been on Jan. 20, and it wasn't a comfortable experience. By that point heavily into LSD, Barrett had become less and less reliable. He seemed more interested in wandering around the stage while the recently hired David Gilmour filled the musical gaps; at one point he spent a whole performance detuning his guitar. He stopped turning up for most rehearsals and recordings, and when he did, his input had been disruptive at best. The final time he showed up, he tried to teach his bandmates a new song titled "Have You Got It Yet?" - only the arrangement would change every time they learned it. They eventually realized it was a practical joke.
Speaking in 1971, Barrett offered his reflection on the split, saying there was never an all-out "war" between the two parties. "I suppose it was really just a matter of being a little offhand about things," he reflected. "We didn't feel there was one thing which was gonna make the decision at the minute. I mean, we did split up, and there was a lot of trouble. I don't think the Pink Floyd had any trouble, but I had an awful scene, probably self-inflicted, having a Mini and going all over England and things."
He denied drugs were an issue. "Perhaps you could see it as something went to one's head, but I don't know that it was relevant," he noted. Barrett argued that his acid trips didn't "seem to have much to do with the job" of performing, adding, "I only know the thing of playing, of being a musician, was very exciting."
Listen to Pink Floyd's 'Astronomy Domine'
In later years the other members of Pink Floyd would allow that they didn't deal with the situation as well as they could have. "We had no idea – and still don't really know – what the real problem was, whether it was LSD or whether it was something in his character anyway," drummer Nick Mason told UCR in 2020. "Or whether, in fact, he was probably clearer than we ever perceived and he just didn't actually want to be in a band, necessarily. While we thought if he didn't want to be in a band, it was a sign of madness – because we were all at that point, absolutely committed to doing it. But I think he maybe just thought, 'Well, I've done that. I don't really want to do any more of it.'"
In an interview with Uncut the same year, Mason suggested that perhaps Barrett found it difficult to work within the framework of a produced band trying to find success. "I can imagine Syd thinking, 'I know how I want to do this, I don't want [producer] Norman [Smith] trying to turn it into a hit single.' Which I think Norman felt some obligation to try and do, whereas Syd was pushing in a weirder direction."
Gilmour accepted that the band's treatment of Barrett was "callous," saying in 2006 that "he wasn't capable or willing to do what was needed. When you're young and ambitious you're also pretty callous and we just got on with it. ... One's desire for survival in that field outweighs other considerations. Obviously, we were wracked with guilt about it later on. I mean, Roger [Waters] and myself did work on producing a solo album for Syd [1970's The Madcap Laughs]. Then Rick [Wright] and I worked on producing the next one [Barrett]. So we clearly did feel that we owed him something."
Listen to Pink Floyd's 'Lucifer Sam'
He added, "I think we were trying to save some semblance of his career rather than saving him. Perhaps our energies would have been better used trying to get him seen by specialists in schizophrenia. Syd didn't need to be surrounded by the temptations of a pop group, he needed help."
The split gave birth to a new incarnation of Pink Floyd, with Waters at the helm. But it didn't come without its risks: The Blackhill Enterprises management partnership that ran the band's affairs was dissolved because its executives, Peter Jenner and Andrew King, wanted to continue working with Barrett rather than with the band. What's more, the revised Pink Floyd lineup could have been vastly different if the leading members were able to ask their first-choice replacement to join. They wanted Jeff Beck, but in his 2005 memoir Inside Out, Mason admitted that "none of us had the nerve to ask him." Responding in 2010, Beck said, "I never would have thought they'd have given me the light of day. How strange!"
Listen to Syd Barrett's 'Octopus'
Barrett – who died in 2006 – played just one solo show in 1970 and then went on to lead a secluded life in Cambridge, focusing on painting as his main creative outlet. "I seem to have spent a little less time painting than I might have done," he said in 1971.
"It might have been a tremendous release getting absorbed in painting. … The fine arts thing at college was always too much for me to think about. What I was more involved in was being successful at art school. But it didn't transcend the feeling of playing at [the] UFO [club in London] and those sort of places with the lights and that, the fact that the group was getting bigger and bigger.
"I really think the whole thing is based on me being a guitarist and having done the last thing about two or three years ago in a group around England and Europe and the States, and then coming back and hardly having done anything, so I don't really know what to say," he noted. "I feel, perhaps, I could be claimed as being redundant almost. I don't feel active, and that my public conscience is fully satisfied."
Pink Floyd Solo Albums Ranked
A ranking of solo albums by members of Pink Floyd, listed from worst to best.
More From Classic Rock 105.1