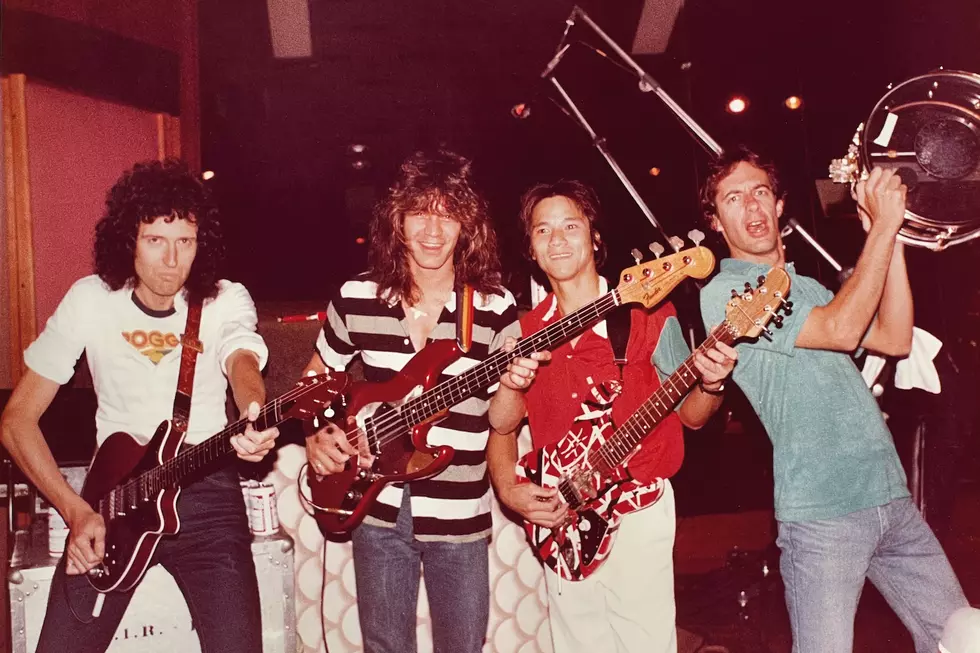 Brian May Compares 'Star Fleet Project' to Having an Affair
Phil Chen
Brian May recalled one of the conversations that took place when he, Eddie Van Halen and three friends gathered for their first Star Fleet Project studio session in 1983.
The Queen guitarist said that working outside their respective bands led REO Speedwagon drummer Alan Gratzer to compare the experience to being unfaithful in marriage.
"It was a time when Queen – this band which we had put together as boys – had matured and become something big around the whole world, incredibly, with hit singles everywhere," May said in a new video. "The members of Queen had become slightly, I think, irritated with each other … we'd been touring, recording, touring, recording, touring, the whole time without a break. In 1983, we decided we needed a break.
"What I remember most vividly is waking up in L.A. – one of my favorite places – and thinking, 'I could do anything today. The sun is shining, I've got friends here. Why don't I make some phone calls?'"
The first call he made was to Van Halen. "Do you fancy coming in the studio?" he asked. "Phil Chen, bass player extraordinaire. Fred Mandel, great keyboard player who was already involved with Queen. … And Alan Gratzer … lives about 30 yards away, well 100 yards away, on my street in L.A. We'd talked before: 'Wouldn't it be nice to do something together?' 'You never know.' Well, this was the moment."
You can watch the video below.
May said he could visualize what the theme song from the Japanese science fiction show Star Fleet could become in the hands of rock musicians. "I wanted to give a platform for Edward to play," he explained. "I wanted to hear what he would do, given a spot – you know, like, 'Go now!'" May noted that, although he gave his friends "a couple of demos," he told them, "Look, I want to be loose. I want to go in there prepared but prepared for anything. So if we get ideas, we can go off at tangents."
He added that "it was incredible to go into the studio with these people, look into their eyes and think, 'We could do anything – what shall we do? We started playing and it was just charged with electricity … and of course, this is five people who have never played together ever before - not like Queen going in. … This was new, completely different. I remember Alan saying, 'Hmm, feels a bit like cheating on your wife.' Not that he would have known, I have to tell you!"
An expanded box set edition of the original 1983 Star Fleet Project mini-album will be released on July 14.
Eddie Van Halen Year by Year: 1977-2017 Photos
You'll see him with long hair, short hair, a variety of his most famous guitars and all three of his band's lead singers.