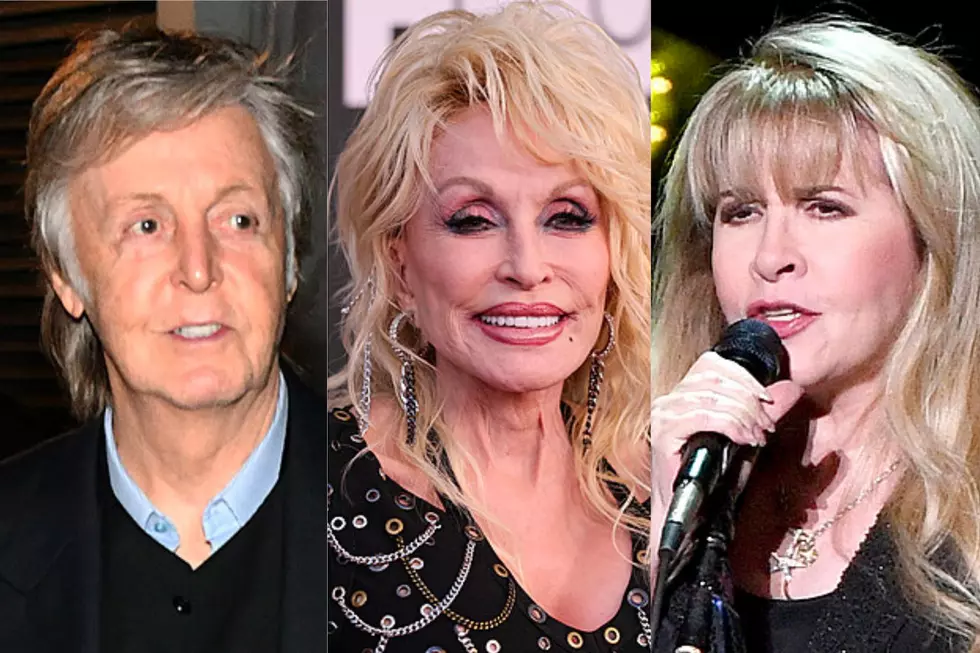 Dolly Parton Confirms Paul McCartney, Stevie Nicks as LP Guests
Craig Barritt / Theo Wargo / Ethan Miller, Getty Images
Dolly Parton has confirmed more guests who will appear on her upcoming rock album: Paul McCartney, Stevie Nicks, Cher and John Fogerty.
The country legend plans to release the album, titled Rock Star, sometime this fall. She has already said Steve Perry and Steven Tyler will be on the record, but she announced the newly named artists when speaking on The View recently. "We just finished our song last night," she said of her Nicks collaboration. Parton also noted that although she is "doing my best" to get Mick Jagger on the album, the Rolling Stones' song "(I Can't Get No) Satisfaction" will appear on the LP with singers Pink and Brandi Carlile as guests.
As the singer previously noted, Rock Star will include covers of songs by Prince, the Rolling Stones, Lynyrd Skynyrd, Led Zeppelin and others, along with some original material. After she was inducted into the Rock & Roll Hall of Fame last year, Parton decided to move ahead with the project full steam. "I'd always thought I might want to do a rock record because my husband is a rock 'n' roll freak," she said on The Tonight Show Starring Jimmy Fallon. "I thought, 'If I'm ever gonna do it, now's the time.'"
Parton has contemplated other guests, too. In October, she said she was hoping to reunite a few members of Led Zeppelin for her cover of "Stairway to Heaven." "I'm trying to see if Robert Plant might sing on it," she said. "Maybe Jimmy Page might do the pick-up part on it."
She also said in an interview on the BBC Radio 2 Breakfast Show last month that she planned on covering Elton John's "Don't Let the Sun Go Down on Me" and had asked the singer to join her on the track. "I've sent out a message asking if he would sing with me on it and possibly play the piano," Parton noted. "So if y'all get to see him, say Dolly wants you to sing on her record!"
Parton said she's been reaching out to the artists herself to invite them to sing on the album, rather than working through a manager or publicist. "I send a message myself because I figure they don't need to get that through somebody else," she explained. "I'm excited to do it, I really am. I think it's gonna be a good album."
22 Rock Albums We Might (or Might Not) Get in 2023