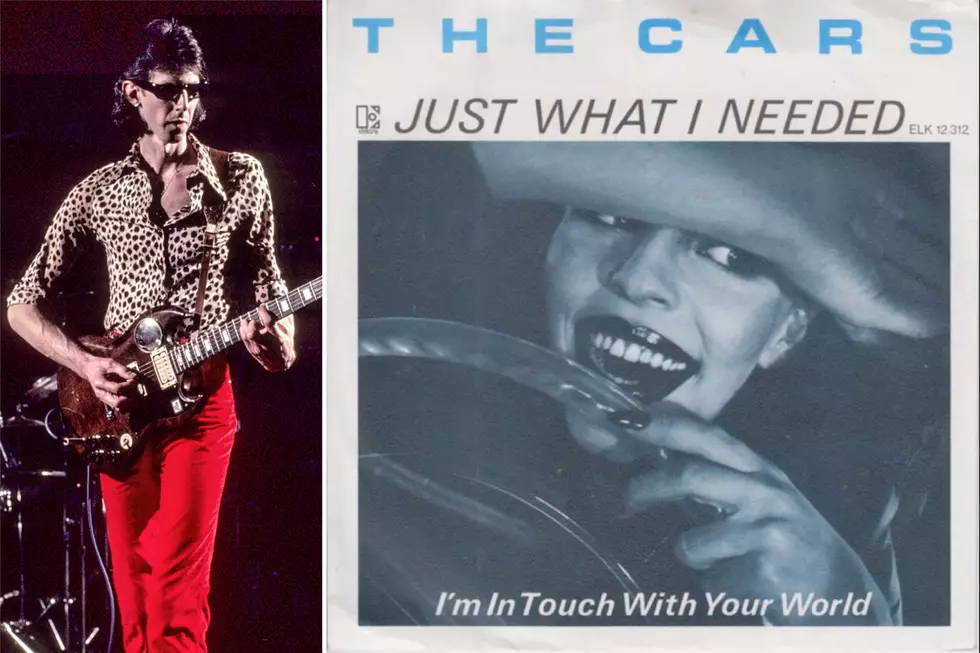 45 Years Ago: The Cars Rev Into High Gear on 'Just What I Needed'
Ron Pownall Photography, Getty Images / Elektra
The first single by the Cars was just what music fans needed.
Released on May 29, 1978, eight days before the Boston quintet's self-titled debut album, "Just What I Needed" immediately shifted the Cars' trajectory into high gear. It peaked at No. 27 on the Billboard Hot 100 -- the first of 13 Top 40 singles in the group's career -- and No. 9 on the Hot Rock & Alternative Songs chart. It went on to soundtrack commercials for Circuit City and EDF Energy, among others, and is arguably the first song anyone thinks of when the Cars are mentioned.
That was no surprise to the band members, either -- although drummer David Robinson maintained that "we never tried to make hits, ever" in the liner notes for the 1995 compilation Just What I Needed: The Cars Anthology. But during a 2000 full-band promotional interview, keyboardist Greg Hawkes admitted he recognized something special in the song. "I remember hearing 'Just What I Needed,' the first time I heard it, thinking, 'Wow, that's pretty cool. It's got something unique about it. It's nice and concise, a fairly short pop song format.' I still remember hearing that for the first time."
Fans in Boston, meanwhile, knew and loved the song well before the rest of the world.
It was written by Ric Ocasek, the Cars' chief songwriter, in the basement of a commune in which he was living in the Boston area. He nevertheless assigned the lead vocal to bassist Benjamin Orr, who he'd met in Cleveland during the '60s and performed with as a duo and in bands such as Milkwood (with Hawkes), Richard and the Rabbits and Cap'n Swing (with guitarist Elliot Easton).
"I think it was pretty casual between Ben and I," Ocasek explained during the 2000 interview. "When we played songs we just went, 'Oh, you sing this, I'll sing that, you sing this.' It wasn't any big deal -- although I did keep in mind if it needed to have a good voice, it needed to be Ben... 'This is a song that has a lot of melody and needs a good voice, so Ben should sing this one.'"
Listen to 'Just What I Needed'
As the Cars' debut album was being assembled, the group brought a demo tape that included "Just What I Needed" -- recorded a couple of months after their first gig -- to WBCN air personality Maxanne Sartori, who'd seen the band live. Sartori began playing it on her show. Another station, WCOZ, also picked it up, which led to offers from the Elektra and Arista labels. The Cars steered towards the former, which was in desperate need of "new wave" acts at the time. The band wound up working with producer Roy Thomas Baker, who added the crisp sonics and production sheen that made the Cars overall a state-of-the-art tentpole in a transitioning era of rock.
"The way (Baker) recorded guitars was really cool," Easton told this writer a couple of years ago. "He'd get real balls but with clarity." That wasn't an easy process, either. "He's going for a very difficult thing to capture in a performance," Easton explained. "For a guitar solo, what he's going for are sort of contradictory things; he wanted absolute perfection, yet spontaneity. He wants to sound like you just walked in in the room, took the guitar off the stand and ripped off a solo, but he wants it to be a perfect solo. You have to kind of put yourself in that mindset, because obviously I wasn't improvising all those solos. I was writing them."
It may have been frustrating at times, but it worked. After "Just What I Needed" peeled out, The Cars followed suit, going Top 20 and eventually certified six-times platinum. The song would also be featured as part of the band's 2018 Rock & Roll Hall of Fame induction set -- sans Orr, who had passed away in 2000. Ocasek, meanwhile, died during September of 2019. Easton said he, Hawkes and Robinson had talked about working together again (Easton and Hawkes were part of the short-lived New Cars in 2005), but nothing has transpired.
The Cars Albums Ranked
Ultimate Classic Rock counts down every studio album by the Cars.