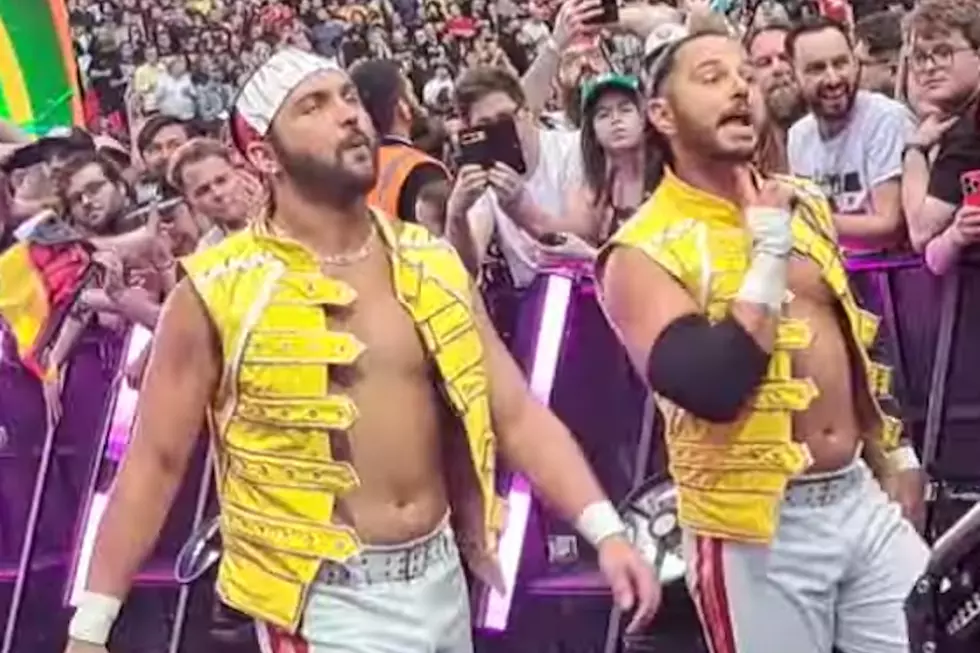 Watch AEW Wrestlers Channel Freddie Mercury for Wembley Bout
YouTube
Tag team duo the Young Bucks channeled Freddie Mercury for their bout at AEW's recent All In event at Wembley Stadium in London.
The pair – made up of real-life brothers Matthew and Nicholas Massie – were one of the night's main attractions, battling FTR for the World Tag Team Championship. More than 81,000 fans attended All In, setting a new record for a professional wrestling event.
The Young Bucks opted to enter the ring wearing bright yellow jackets with white pants, a look made famous by Mercury during Queen's 1986 Wembley performance.
"It was a very famous outfit that he wore," the wrestlers explained in behind-the-scenes footage shot before the bout. The costume designer, they noted, "killed it."
Watch the Young Guns Enter in Freddie Mercury Attire
What Made Freddie Mercury's Outfit Famous?
Queen's 1986 performance at Wembley Stadium is regarded as one of the most legendary concerts in rock history. In many ways, it was an encore to their momentous Live Aid performance, which took place at Wembley a year before. Queen played two dates – July 11 and 12, 1986 – but it's the latter show that lives on in history. The concert was broadcast on television and simulcast on radio, giving fans all over the world the chance to feel like the 75,000 people in the audience that night. Queen played 28 songs during their performance, including such classics as "Under Pressure," "Another One Bites the Dust," "Bohemian Rhapsody" and "We Are the Champions." It would later be released as the live album Live at Wembley '86 and the concert film Queen at Wembley.
READ MORE: How Queen Stole the Show at Live Aid
Donning his yellow jacket and racing-striped white pants, Mercury was in exceptional form at the Wembley concert. The performance has often been referenced by those who argue the Queen singer was the greatest frontman in rock history. It's also a bittersweet reminder of Mercury's incredible talent; he succumbed to AIDS and died five years later.
Watch Queen Perform 'Under Pressure' at Wembley in 1986
Other AEW Classic Rock Moments
The Young Bucks weren't the only wrestlers who flashed some classic rock style during the All In event. Saraya came out for her AEW World Women's Championship bout to the sounds of Queen's "We Will Rock You," while wrestling legend Sting entered using Metallica's "Seek & Destroy." The latter choice was notable as Sting previously employed the Kill 'Em All classic during his stint in WCW from 1999 to 2001.
Orange Cassidy also continued his use of Jefferson Starship's "Jane" as his go-to theme song, once again entering with the 1979 hit during his involvement in the massive Stadium Stampede bout.
Elsewhere, wrestler Chris Jericho - who has also found success with his rock band Fozzy - delivered a rendition of his theme song, "Judas." The performance included an "ay-oh" call and repeat, similar to the one Mercury made famous during Live Aid.
READ MORE: 35 Great Rock and Wrestling Moments
Watch Chris Jericho Perform at AEW All In
The Best Song From Every Queen Album
A thread runs through it all: a hard-won sense of individuality. Queen were a band like no other.
More From Classic Rock 105.1