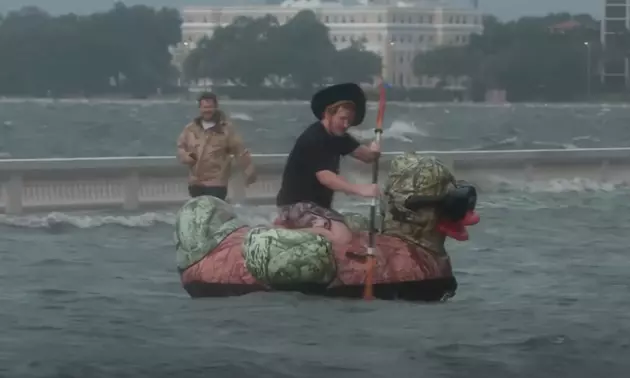 Florida Man Takes on Idalia Storm Surge in Inflatable Duck
YouTube / 9News
Storm surge from Hurricane Idalia in Tampa was no match for sightseers on a camouflage inflatable duck. The men ended up being on CNN with meteorologist Derek van Dam during coverage of the hurricane on Wednesday morning.
Idalia has created quite a bit of havoc all up and down the coast of Florida. Multiple counties were evacuated, and communities have been inundated with storm surges.
In the midst of all of this flooding, local broadcasters and others were able to capture a man riding an inflatable duck in the middle of all of the flooding.
These two gentlemen are obviously not doing the safest thing possible. They should be in a shelter or some other location where they evacuated, but we do agree that in the middle of something so serious, having a brief moment of levity can be beneficial to our mental health.
Van Dam, a meteorologist who has worked all over the globe was able to approach both gentlemen seen riding the giant camouflage inflatable duck. He quipped "this is a very new way to beat rush hour traffic on Bay Shore Boulevard in Tampa, Florida."
The two men seen riding the duck were riding down a major thoroughfare in Tampa, and they didn't even really stop to answer questions from Van Dam.
Here in Acadiana, we have tons of footage from stories of people taking part in crazy, but fun "water sport" activities before, during, and after hurricanes.
While we could never condone such behavior, I think we can all relate to this, right?
LOOK: 20 American foods that raise eyebrows outside of the US
Stac



ker
compiled a list of 20 unusual and uniquely American foods that might raise eyebrows outside the U.S.
More From Classic Rock 105.1