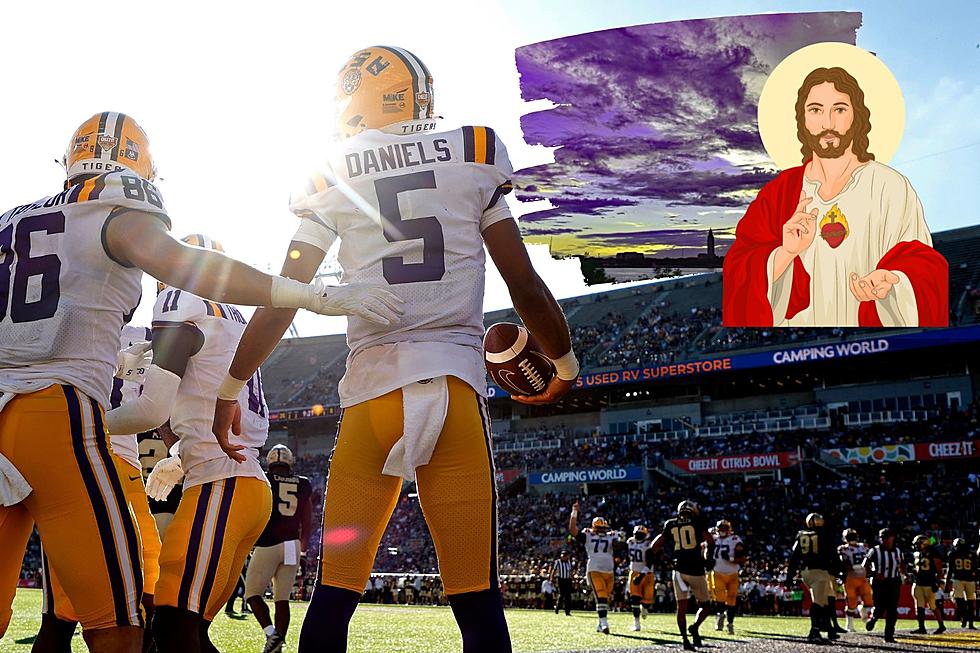 Is this Photo Proof that God is an LSU Tiger Fan?
Canva/Mike Ehrmann/Getty Images/Craig Philip LaBorde via Facebook
If you need proof that God is a fan of Louisiana's LSU Fighting Tigers, you're going to love this! I know, I know... Sunday's LSU game against Florida State was a tough one. But, it's only one game. Don't worry, God forgives us when we make mistakes, too.
Is this photo proof that God is an LSU Tiger Fan?
YES! Obviously, God is a fan of football, after all, he came up with it. But how do we know that he's an LSU fan? This picture says it all. It was captured by Craig LaBorde who says he took the picture of the Baton Rouge skyline from across the Mississippi River from Port Allen at the Old Ferry Landing. Isn't it stunning?
---
---
You may think I'm writing this in jest, but only God could paint a sunset this beautiful. He truly is an awesome God.
How can you get a copy of the purple and gold skyline over Baton Rouge, LA?
Good news! The photographer, Craig LaBorde, is offering prints of his picture for sale. He had a 24" x 36" canvas for sale now for $250 at The Artist's Loft Gifts & Antiques in Baton Rouge, but since this picture went viral, it's already been sold. However, you're not out of luck! You can reach out to Craig directly via his photography Facebook page Craig LaBorde Photography to purchase a print. I think this is the perfect gift for the LSU lover in your life!
---
---
Getting to Know New LSU Football Coach Brian Kelly, 10 Fast Facts
Top 10 LSU Tigers Drafted by the New Orleans Saints
Top 10 LSU Tigers Drafted by the New Orleans Saints
LSU Football 2023 Schedule
More From Classic Rock 105.1