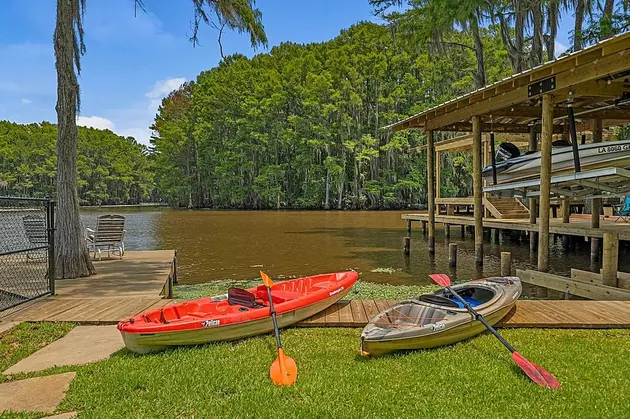 A Cute Cozy Cabin on Caddo Goes Viral on TikTok
Luke First Class Cabinvia Airbnb
TikTok Has Some of the Best Travel Ideas Out There.
Most of the time the travel options are far away from Shreveport. We all love flying out of Shreveport to feel like we are really getting our vacation on, however, there is a cabin on Caddo Lake that has been putting in some work on TikTok.
This Cabin Isn't Your Typical Cabin.
This spot looks like someone knew you needed a break and wanted you to escape to a picture-perfect oasis. It feels like your own slice of paradise.
The Biggest Struggle Will Be Finding Out Who to Invite.
Keep in mind these folks need to love time on the lake, must want to kayak, must want to relax on a hammock, and have a good campfire story. Maybe you just want to make this a couple's getaway, either way, it's a perfect little getaway less than an hour away.
Just Click Here if You Want to Book a Stay at First Cast Cabin. 
@firstcastcabin Welcome to your beautifully remodeled, four-bedroom, four-bathroom waterfront Airbnb rental in Uncertain, Texas. This stunning property features elegant decor, modern amenities, and breathtaking views. With two king-size beds and two queen-size beds, it comfortably accommodates your group. Enjoy the tranquil ambiance and direct access to the water, making it the perfect retreat for relaxation and water activities. Get ready to create unforgettable memories in this idyllic lakeside getaway! #CapCut #texas #uncertaintx #caddolake #decor #travel #vacation #airbnb #lake #views #photography #fishing #style #visit #destination #bigcastcabin ♬ original sound - Caddo Lake Cabin Rental Airbnb
Caddo Cabin Viral on TikTok is a Great Escape From Shreveport
The Louisiana House That Is Still Stuck in 1960