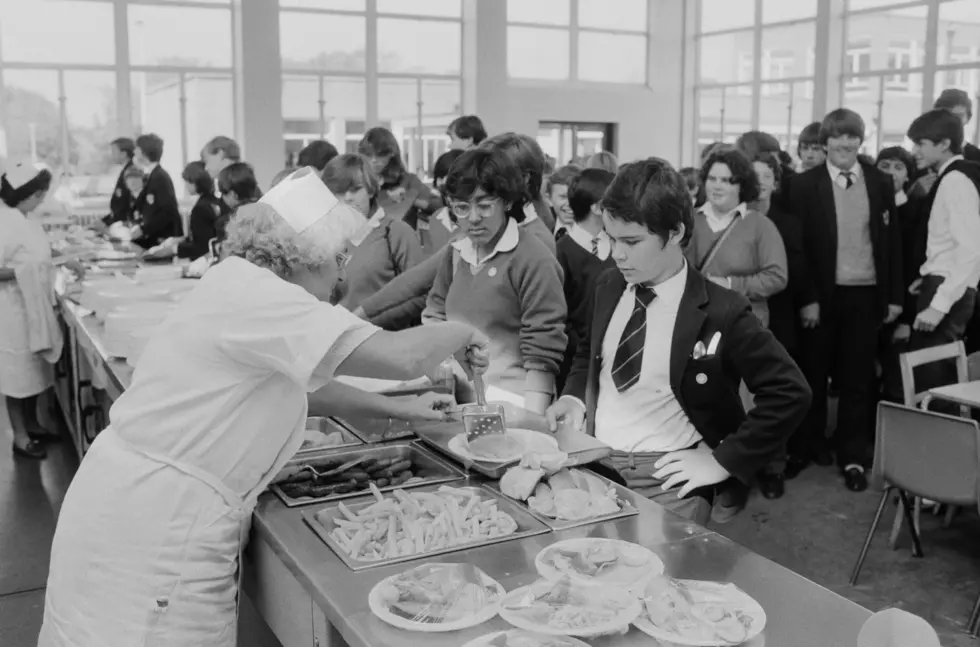 Here's The Recipe For The School Pizza You Loved As A Kid
(Photo by Dunsmore/Daily Express/Hulton Archive/Getty Images)
If you loved the pizza at your school's cafeteria when you were a kid, guess what? We got the recipe for it so you can make it at home!
No standing in line and you can eat as much of as you want.
Seems simple enough. This recipe shows you how to make everything from the crust to the filling to the sauce. If you make this, please let me know how it turned out.
Half sheet pan and line with parchment paper.
2 ⅔ flour
¾ cup powdered milk
2 T sugar
1 packet of quick rise yeast
1 tsp salt
1 ⅔ cup warm water (105-110 degrees)
2 T vegetable oil
½ pound ground chuck
½ tsp salt
½ tsp pepper
1 8oz block mozzarella cheese – grated yourself  (To be authentic school pizza, you will have to use imitation mozzarella shreds.)
Sauce (I make the sauce the day before):
6oz can tomato paste
1 cup of water
⅓ olive oil
2 cloves garlic minced
1 tsp salt
1 tsp pepper
½ tbsp dried oregano
½ tbsp dried basil
½ tsp dried rosemary crushed
Crust:

Preheat oven to 475 degrees.  Spray pan with Pam and lay Parchment paper down (Pam makes it stick)
In a large bowl – flour, powdered milk, sugar, yeast, salt – whisk to blend
Add oil to hot water (110-115 degrees) – pour into your mixture
Stir with a wooden spoon until batter forms – don't worry about lumps – you just want no dry spots
Spread dough into pan using fingertips until it's even.  If dough doesn't want to cooperate, let rest 5 minutes and try againBake just the crust for 8-10 minutes – remove from oven and set aside.
Brown meats until it resembles crumbles – set aside and drain meat
Get out the pizza sauce – to the partially baked crust, assemble: Sauce – spread all over the crust
Sprinkle meats
Sprinkle cheese
Bake at 475 degrees for 8-10 minutes until cheese melts and begins to brown
Remove from oven – let stand 5 minutes
Cut in slices and serve!