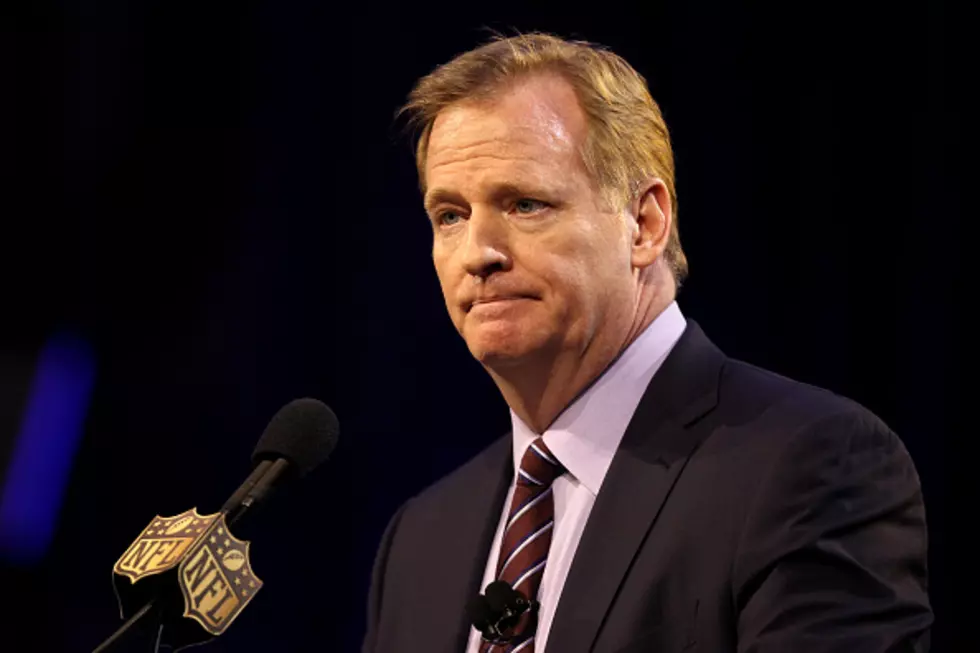 Hacker Takes Over NFL's Twitter And Proclaims Roger Goodell Dead
(Photo by Mike Lawrie/Getty Images)
For a brief moment today, the NFL declared Commissioner Roger Goodell dead.
It didn't take long for people to figure out it was the work of a hacker, and the NFL reclaimed their Twitter feed and deleted the two tweets. Of course, the internet is forever, so the hacker made sure to have a little fun before he got booted.
The first message he sent out almost broke the internet, and with the power of screen shots, we can share it all with you. Thanks, technology.
He wasn't done yet though. He made sure to fire two more off before jumping off Twitter.
After that one, even the most gullible people knew it was a joke. It would have been a cruel joke to Goodell's family and friends, but this was obviously a prank from the start.
The hacker had his fun, so he said goodbye with a couple more key strokes.
We've seen a lot of Twitter feeds get hacked before in the NFL.
Laremy Tunsil recently saw his draft stock plummet after videos of him smoking marijuana out of a gas mask popped on the internet right before he expected his name to get called. The hacking cost him a lot of money, and it also got his university, Ole Miss, in hot water over messages he exchanged with coaches about money he needed.
Hackers can cause a lot of damage, but it appears like this one was just a prankster.
Too bad @IDissEverything didn't get those follows for all the hacking. Instead, Twitter suspended his account, according to Carroll. No more Twitter fun for you, @IDissEverything.
Just imagine the reaction in the NFL offices when that tweet came out. Do you think some of his employees believed it? Whispered conversations in cubicles, "Is it true? I mean, I saw him yesterday and he looked fine. Kind of like a vampire, but he was fine."
Eventually, Goodell himself took to Twitter to put the matter to bed. He tried to make a joke of his own, but it wasn't very good.

It was a long day for NFL Twitter. Go home, internet. You're drunk.