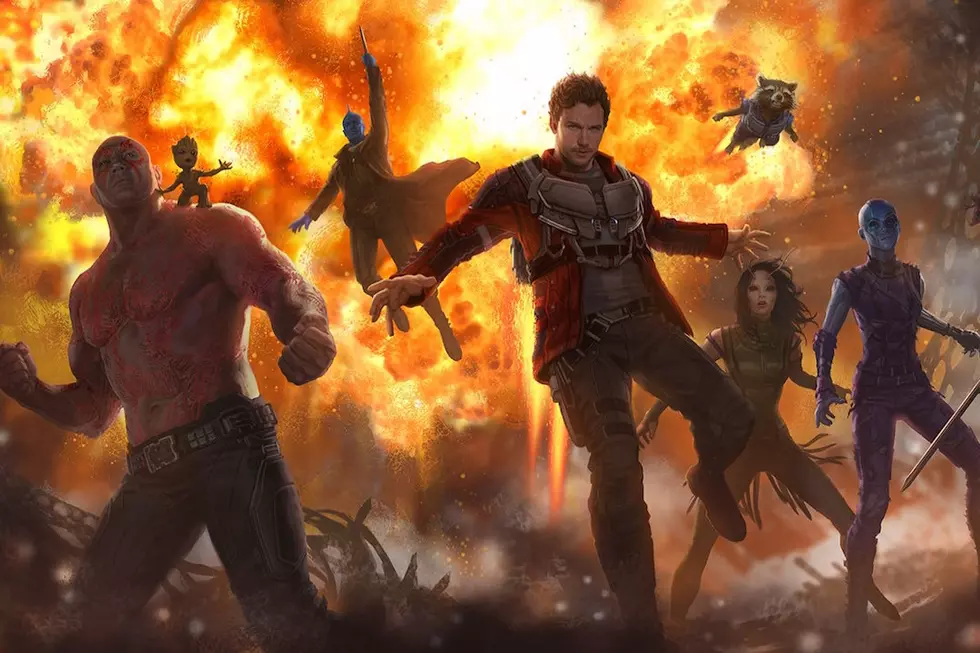 James Gunn Unveils the First 'Guardians of the Galaxy Vol. 2' Poster
Marvel
Doctor Strange could come out of nowhere and wow us all, but barring that, it's been a lackluster year for superheroes at the movies. And as if responding to our culturewide cry for help (or at least a little fun from time to time), James Gunn and the crowd-pleasing Guardians of the Galaxy franchise have returned to get audiences psyched up for the impending sequel, cheekily titled Vol. 2, as if the second installment in cassette-obsessed Star-Lord's mixtape series. The first theatrical poster is here at last, obviously:
People's champion Chris Pratt reprises his role as Peter Quill, the erstwhile Earthling leading his band of scrappy, unscrupulous fighters through the galaxy in search of justice and profit, not necessarily in that order. The whole gang — Zoe Saldana's slinky assassin Gamora, Dave Bautista's hulking Drax, raccoonoid Bradley Cooper as Rocket, Vin Diesel in baby-tree form to voice a budding Groot, and supporting players Yondu (Michael Rooker) and Nebula (Karen Gillan) — checks in on the simple, black-and-white poster. This is in addition to the previously unveiled concept art, which finds our heroes leaping from an unknown explosion and striking their coolest poses.
We've still got a long ways to go until the long-awaited sequel to the breakout hit arrives on May 5 of next year, in glorious 3D. But James Gunn's tweet bringing the new poster to the public's attention is a clear signal that a new trailer far off, either. Perhaps audiences sitting down for Doctor Strange will be in for a surprise, hm? 
More From Classic Rock 105.1