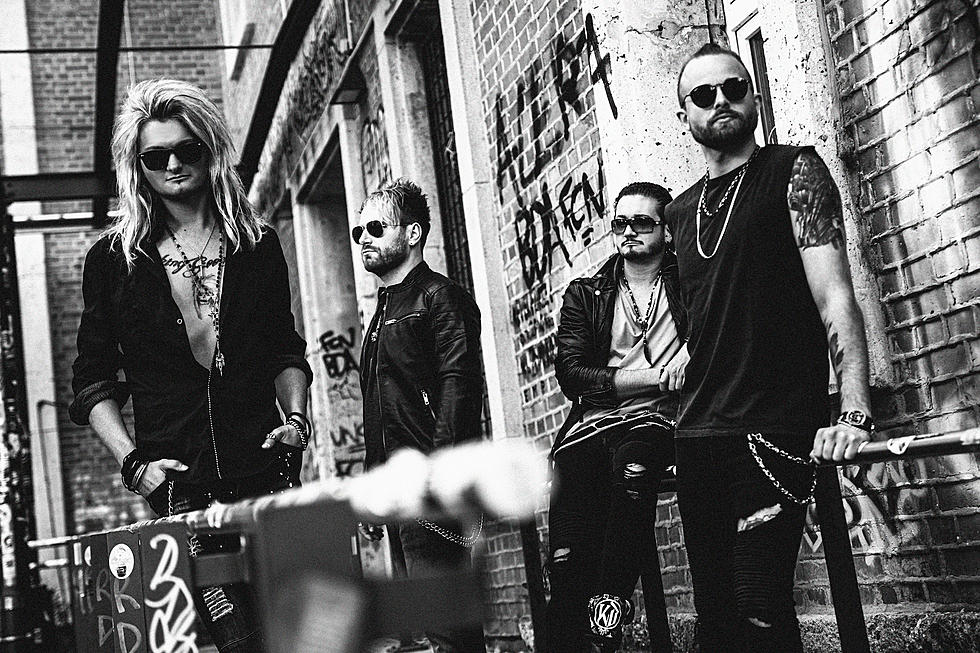 10 Greatest Glam Metal Videos of All Time, by Kissin' Dynamite
Holger Fichtner/Patrick Schneiderwind
German glam rock vets Kissin' Dynamite have been running rampant for 20 years and their seventh album, Not the End of the Road, is out now. As modernized as their sound is, who can resist some nostalgia? That's why we invited guitarist Jim Müller to break down his 10 Greatest Glam Metal Videos of All Time.
Kissin' Dynamite were originally formed in 2002 and, six years later, they released their debut record, Steel of Swabia. Every album since then has landed on the German Entertainment charts and the band has increasingly strengthened their hold in not only their home country, but elsewhere around the world.
They're keeping the momentum moving forward on Not the End of the Road, and you can watch the music video for the anthemic single "Coming Home" directly below before perusing through glam videos both old a new(ish).
Follow Kissin' Dynamite on Facebook, Twitter, Instagram and Spotify. Get your copy of 'Not the End of the Road,' out on Napalm Records, here.
Kissin' Dynamite, "Coming Home" Music Video
Motley Crue, "Girls, Girls, Girls"

Hard to decide which Mötley video is the best, but I think "Girls, Girls, Girls" puts it all in a nutshell just perfectly. Motorcycles, ladies, lots of hairspray — you get it.

I love this band and their videos. Always feels like Alice Cooper did a time travel from the '70s to the present. Saw them at Wacken 2019, kicked ass.

Steel Panther, "Community Property"

As Steel Panther came up with their debut release, the whole band was hyped! It was that time we thought we were the most badass sleaze guys out there, living the Sunset Strip life in a metal disco called Rockfrabrik in Ludwigsburg, Germany, wearing animal print leggings and shit! Ranges from awesome to awful memories, haha!

Skid Row, "Youth Gone Wild"

Sebastian Bach hass one of the most bitchin' voices out there! This track is also an anthem of our crazy "take me back to the '80s" time.

Danger Danger, "I Still Think About You"

A classic, mostly black and white, emotional tour video by the underrated band Danger Danger. Simply love the vibe of this video.

So there are tons of '80s music performance videos on big stages with lots of lights in an empty arena out there, but this one is my favorite. It's so funny going through these videos that are almost all the same as if it was state of the art those days.

Alice Cooper, "House of Fire"

My favorite Cooper track and also a really nice video! Never saw him play this song live except one time opening the 'Rock Meets Classic' Show — EPIC!

We first met Black Rain when we opened for them and Crashdiet in 2011 in Paris — what a glam rock party that was! Just the last tour we did before the "evil C" hit us, we were together on tour across Europe and it was fantastic!

David Lee Roth, "Yankee Rose"

This one is definitely a must see when it comes to crazy glammy '80s videos. You can't stop watching even though your eyes hurt.

Guns N' Roses, "November Rain"

I think this one needs no explanation. Kings of sleaze rock with one of the best videos of all time across all genres.
More From Classic Rock 105.1