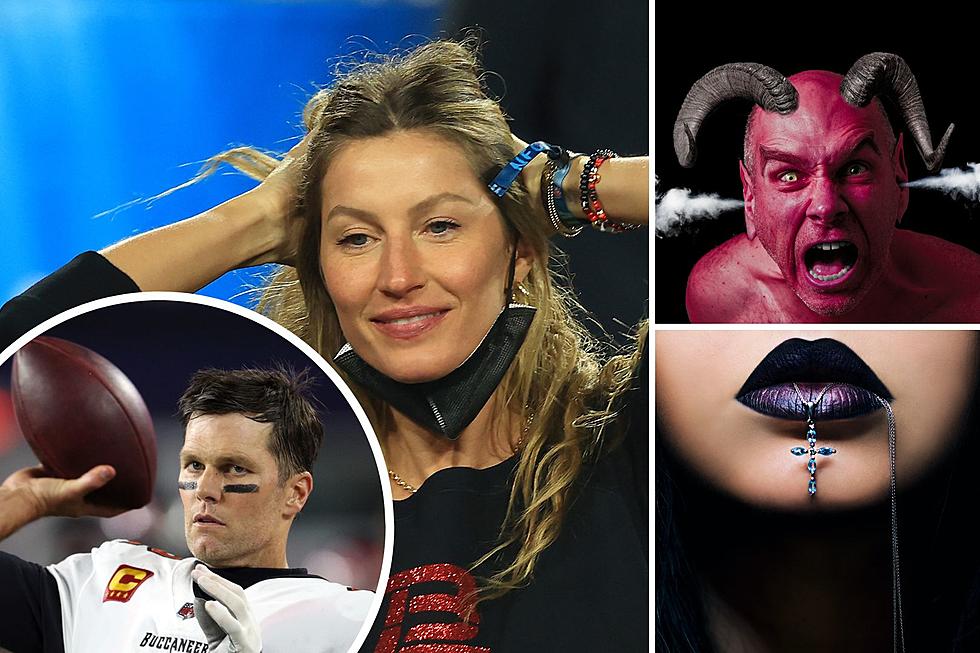 Gisele Bundchen's Post-Tom Brady Gothic 'Vogue' Magazine Cover Fuels Satanic Panic on Twitter
Maddie Meyer, Getty Images / Mike Ehrman, Getty Images / Marc Dufresne, iStock/Getty Images / Kateryna_Mostova, iStock/Getty Images
In her first Vogue magazine cover since filing for divorce from NFL legend Tom Brady, Gisele Bündchen's gothic makeover has fueled a Satanic panic on Twitter.
Widespread fearmongering over Satanism, such as convicted conspiratorial liar Alex Jones' recent suggestion that all entertainers "pledge to Lucifer" upon signing deals and contracts, is at its highest point since overrunning the media in the 1980s. And after Bündchen's gothic new look, in which she sports a sheer red dress and extends her arms and hands in a similar fashion to the traditional seated baphomet image (both seen in tweets below), many were quick to charge the veteran model and Vogue Italia with devious, devilish intentions.
One Twitter user pointed to Bündchen's pose, stating, "They knew what they were doing with the positioning against the letters. It's a media theme for 2023." Her hands are pointing at the V and E in the magazine's name on the cover, so it's unclear why that aspect of the cover is so troublesome.
"This is Gisele on the cover of Vogue," comments Bitcoin enthusiast Brent James, who then asks, "When did the preferred aesthetic among celebs become satanic?"
Another Twitter user, whose page almost exclusively traffics in conspiratorial and skeptical agendas, says, 'No wonder Tom Brady left his Satanic witch wife, Gisele," and then it gets really weird...
"Gisele means 'pledge or hostage,' [editor's note: Gisele is a Germanic name that does translate to "pledge"]," and then the @be_biblical account asks, "Who does Gisele pledge allegiance to?," showing a side-by-side photo of the Vogue Italia cover and a baphomet.
"God, protect Tom Brady's his [sic] kids from evil," the tweet concludes.
Curiously, someone else on Twitter was puzzled by Bündchen's supposed Satanic image, unsure how someone who defended an unvaccinated colleague could also adopt such a look. "I am sick of many Vogue and magazines going woke and Satanic, just like Netflix, Grammy and else, but sad to see my favorites cooperate with them," they added, parroting common rightwing demagoguery.
The Grammys reference goes back to earlier this month (February), where English pop star Sam Smith put on a David Draiman-approved performance rife with overtly Satanic imagery.
Another tweet expressed a similar viewpoint regarding the Grammys.
And then, of course, there's a couple people who joked about it, saying she's in her "lusty vampire era" while wondering if Gisele (misspelled as "Hisele") is on Satan's payroll. Or, at least we hope one of these tweets is a joke! If not, we'll have to try like hell to make an attempt to reach out to Satan's accounting department for comment.
15 Artists Associated With Witchcraft, Satanism + the Occult
Below is a gallery of 15 prominent artists in the rock and metal world who have been associated with witchcraft, Satanism and the occult in one form or another. Some may seem obvious and others may completely take you by surprise.
PLAYLIST: Ultimate Goth Metal
10 Bands Who Broke World Records
More From Classic Rock 105.1