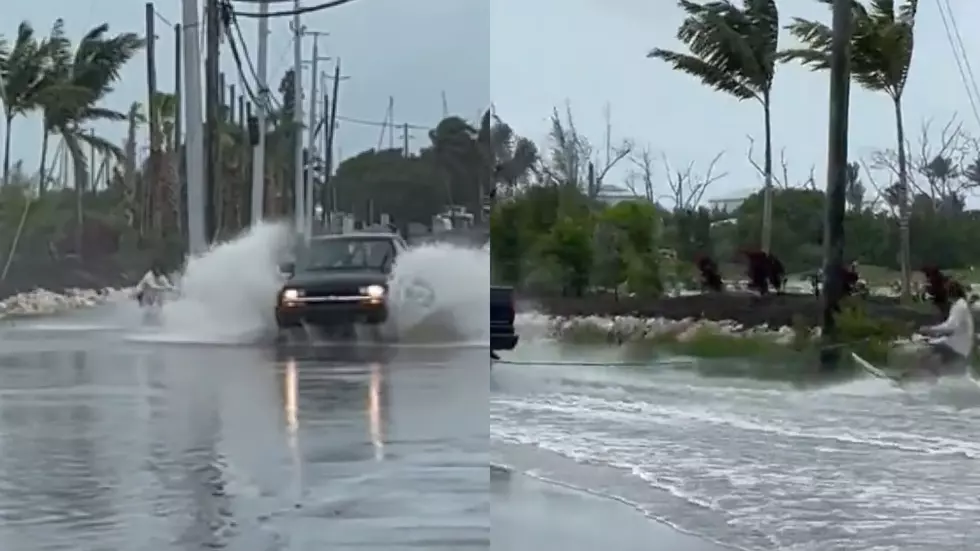 Florida Man Wake Surfs Through Flooded Streets as Powerful Hurricane Ian Approaches
Twitter via @BigBen_27
Reports say that Hurricane Ian is expected to make landfall as a Category 4 storm, but the potential for deadly weather conditions has seemingly not shaken some in South Florida. Video has hit social media of a Florida man wake surfing through the flooded streets of Key West as Hurricane Ian strengthens.
As Hurricane Ian ripped through Cuba, it began building strength while approaching the Southernmost point of the United States. Out in Key West, the effects of the storm are beginning to be felt, although social media posts show that some are still out and about even with the dangerous conditions rapidly setting in.
Hurricane Ian Predicted to Become Category 4 Storm
Local news outlets from Tampa via @FOX13News are now reporting that Hurricane Ian is expected to become a Category 4 storm before making landfall sometime tomorrow.
While the worst of the storm has yet to reach Florida, the damage is already being done in Key West.
See video evidence of the damage via @KeyWestGwen via Twitter below.
But even with waters rising and winds strengthening, some in South Florida don't seem to be too phased by the dangerous conditions that are currently setting in.
Florida Man Wake Surfs in Flooded Streets as Hurricane Ian Approaches
See the video from @BigBen_27 on Twitter below.
While the surfing may have been an anomaly, there are still many people out and about in the Key West area with less than 24 hours to go until the storm fully engulfs the area.
Check out people paddling around the flooded streets in kayaks here.
Many are still taking photos out near the Southernmost point buoy even as the waves crash behind them.
Keep an eye on the harbor out in Key West, FL via the live YouTube feed below (or by clicking HERE) as Hurricane Ian rapidly approaches.
Aerial Pictures of Southwest Louisiana Before & After Hurricane Laura
More From Classic Rock 105.1