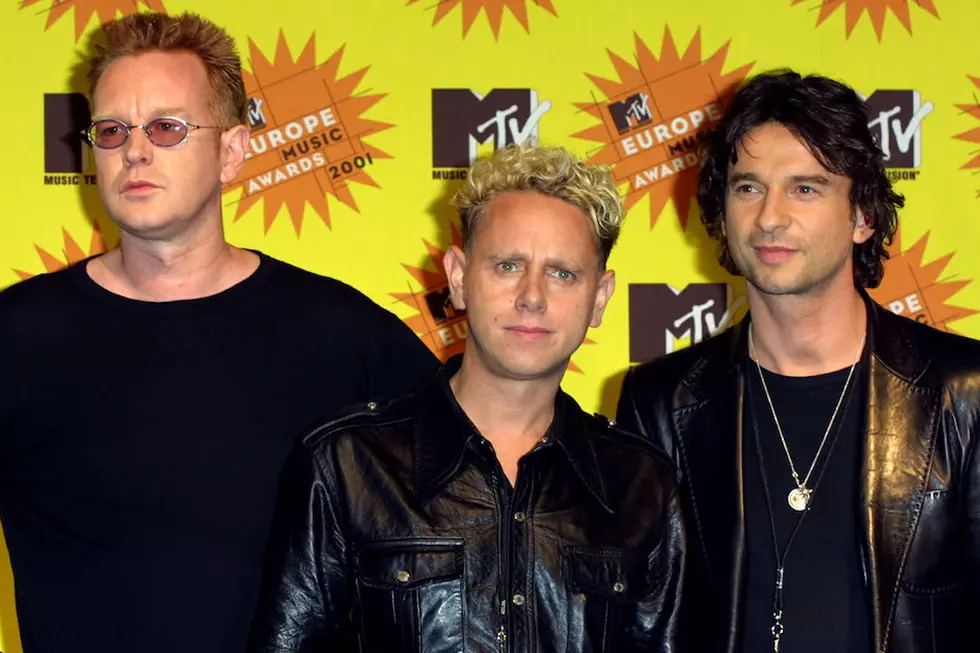 5 Reasons Depeche Mode Should Be in the Rock and Roll Hall of Fame
Anthony Harvey, Getty Images
There are those who might question why Depeche Mode should be in the Rock and Roll Hall of Fame, having emerged from a period of throwaway '80s dance product that resembled – save for the neon colors – nothing so much as the superfluous '50s.
Depeche Mode quickly emerged with something that stood out in an era of mindless musical consumption, however, creating synthpop that had the same danger and depth as rock and the kind of sophistication once reserved for classical music. They sold millions of records along the way too, pulling off the improbable feat of reaching both their creative and commercial peaks simultaneously at the end of the decade.
Was it enough to earn them a spot amongst music royalty? Let's make the case with our five reasons Depeche Mode should be in the Rock and Roll Hall of Fame ...
A key element to any Hall of Fame candidacy is the ability to grow as an artist. Despite starting life as a keyboard-driven member of the U.K.'s "New Romantic" movement, Depeche Mode did just that – evolving into a much darker electro sound after the departure of Vince Clarke to form Yaz with Alison Moyet. This shift, led by the fast-maturing Martin Gore's deliciously ominous songwriting, ultimately hurtled Depeche Mode to platinum success in the early '80s as one of alternative rock's first superstar bands.

Influence matters, and their impact on other rockers is undeniable. Could you even have the Killers or Interpol without Depeche Mode? Likely owing to the moody, personal nature of their songs, Depeche Mode have also been covered by the likes of Marilyn Manson, HIM, Dave Grohl (with Ghost), Lacuna Coil and Sammy Hagar. Axl Rose proclaimed himself a fan in the 101 era. Fear Factory's Burton Bell followed them even before that. Heck, Deftones singer Chino Moreno says Depeche Mode was his first-ever concert; he even has the flower from 1990's Violator cover tattooed on his bicep.

Sucker for an underdog story? You've come to the right place. Depeche Mode were basically computer geeks who made it big, initially trading the typical flame-painted axe for a Casio synth and Animal-like drum-dude sidemen for click tracks. In another era, these guys – pasty, slight, wearing S&M-style or zipper-y stuff, maybe a bit too articulate – probably would have ended up as a lighting tech for some heavy-metal demigod. Instead, they became a new kind of rock star.

Sure, for much of their early career, Depeche Mode relied solely on tech-generated sounds – something that might have kept them from Hall of Fame consideration in another era. But 1990's multi-platinum Violator changed everything. Gore brought in stripped-down, strum-driven demos for the band to build upon, and the results led to Depeche Mode's biggest-selling release ever. The follow up, 1993's Songs of Faith and Devotion, showed they were committed to this new direction. Tellingly, an expanded reissue of Violator included a 32-minute documentary on the period titled If You Wanna Use Guitars, Use Guitars.

Songs With a Deeper Meaning

Hall of Fame electors hoping for cover in voting for a "dance band" should look no further than Depeche Mode's lyric sheets – and not just on their more recent projects. The band's breakthrough U.S. single, 1984's industrial-driven "People Are People," was an ardent plea for peace. Call it synthpop's "All You Need Is Love." They've also tackled rarely approached subject matter like rampant consumerism ("Everything Counts"), teen suicide ("Blasphemous Rumours"), the fight for individuality ("Stripped"), the difficulties in letting go of past hurts ("The Child Inside"), outsider predilections ("Master and Servant," "Strangelove," "In Chains"), fears about mortality ("Fly on the Windscreen") and religious mores ("Personal Jesus").
More From Classic Rock 105.1