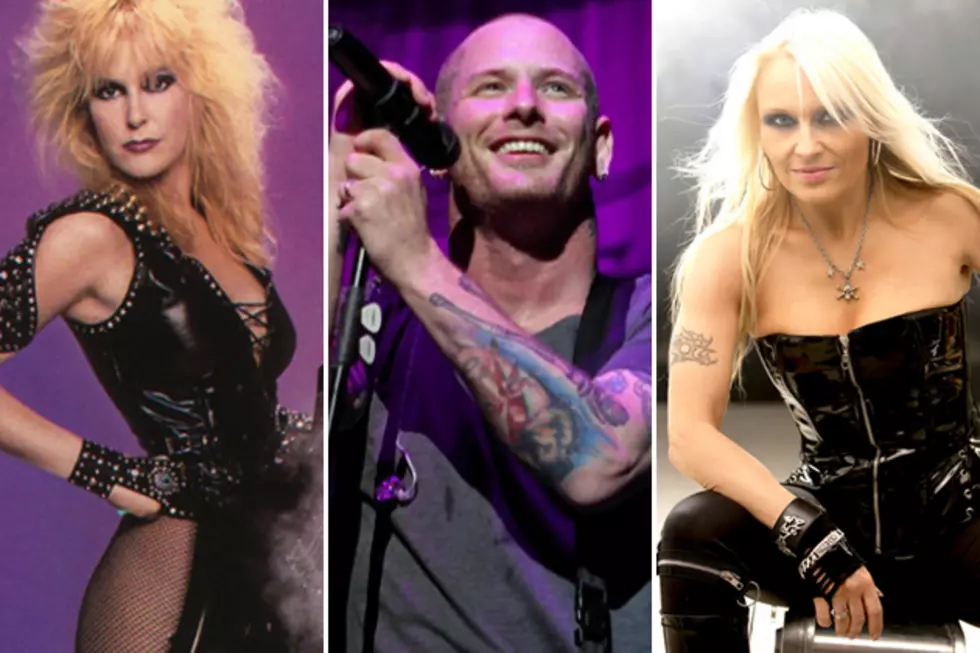 Corey Taylor Recalls Fantasy of Menage-a-Trois With Lita Ford and Doro Pesch
LitaFordOnline.com / Mary Ouellette, SheWillShootYou.com / Doromusic.de
It's not uncommon for teen boys to start fantasizing about beautiful and famous women, and Slipknot / Stone Sour singer Corey Taylor reveals that his adolescence was filled with fantasies about '80s metal goddesses Lita Ford and Doro Pesch.
Taylor says that while Joan Jett was hot, he wasn't quite at the age yet where his fascination with women was such a major part of his life during her heyday. Instead, his love of metal introduced him to the blonde bombshells Lita Ford and Doro Pesch.
He tells Armed Forces Network's Russell Toof the following: "I had this amazing dream about being in a ménage-a-trois with Lita Ford and Doro Pesch, only because they had that great cover in 'Ripped' magazine which I used to collect. They had a big pullout poster that was on my wall forever. They were just the hottest women that I'd seen in my life. So that was my [crush]."
Taylor also took time to address his comments about potentially pursuing a dance album and reaching out to Justin Bieber for a performance. The vocalist says that some of the commentary was meant in fun, as he admits, "I just love messing with the fans." However, the attempt to reach out to Bieber for a one-off collaboration at his book event for an acoustic version of the 'Psychosocial Baby' was legit and something he thought would be fun even though it didn't pan out.
While he didn't foresee it going anywhere beyond that, Taylor says, "The funny thing is if he came to me, I'd be all about it. I don't even care. Because it's not about what people think at the end of the day. It's about what you want to do. And trust me, I've turned down weirder gigs to be honest."
As for the dance record, that was something that was just in fun that evolved into something much bigger during Twitter conversations with fans. That being said, Taylor adds, "At this point man, anything's possible. Who am I to not want to make music? It doesn't matter what kind it is. I would love to do a tune with Prince or Willie Nelson. That to me is the true representation of being a lover of music and not caring about your q points and all that crap, so, hey, you never know, right?"
He also addressed pulling double-duty with Slipknot and Stone Sour at Ozzfest Japan next year, explaining, "Obviously I can't do it all in one night or I'd kill myself, but you know having Slipknot headline an Ozzfest gig, that's an honor and it makes me proud of what we've accomplished and whatnot and then to turn around the next night and basically have Stone Sour open for Black Sabbath, I mean that's pretty damn sweet. I have no complaints at this point in my life."
To hear more of Taylor's interview, in which he also discusses reaction to Stone Sour's 'House of Gold & Bones Pt. 1' being named one of Loudwire's 10 Best Rock Albums of 2012, his favorite TV theme songs and his relationships with Seether and Halestorm, click play below:
Listen to AFN's Russell Toof Interviewing Corey Taylor
More From Classic Rock 105.1