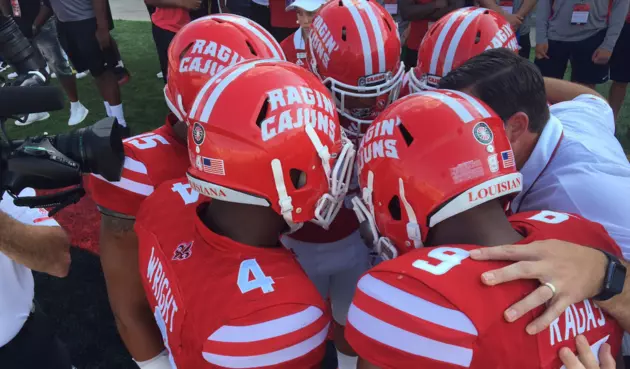 Cajuns Win Season Opener Over Lions In High Scoring Affair
Photo by Cody Junot
Raymond Calais had two kickoff returns for touchdowns Saturday night as Louisiana opened the 2017 season with a 51-48 win over Southeastern Louisiana before 18,289 at Cajun Field.
Calais got the season started with a bang, as he returned the opening kickoff 97 yards to give the Cajuns a 7-0 lead just :11 into the game.
But SLU struck back on a 42 yard run by Eugene Bethea to the the game at 7-7.  And, after the Cajuns failed to move, Max Lyons returned a Sam Geraci punt 60 yards to give the Lions a 14-7 lead.
The Cajuns tied the score as redshirt freshman Trey Ragas bowled over two defenders on his way to a 54 yard touchdown run to tie the score at 14, but another Lyons punt return put Southeastern at the LA three yard line and Bethea scored from a yard out to give the Lions a 21-14 lead.
Then Calais went to work again, breaking to the sideline and outrunning everyone for a 100 yard kickoff return to tie the score at 21.
And, that was all in the first quarter.
The Cajuns would never trail again, but could never get a lead of more than seven points.  Each team had a pair of scores in the second quarter and went into the locker room tied at 35.
Both defenses played better in the second half.
The Cajuns got a touchdown run from Jordan Wright to take a 42-35 lead after three quarters before Southeastern tied the game again.  Freshman Elijah Mitchell scored from two yards out to give the Cajuns a 49-42 lead, but Southeastern drove 95 yards against a tired Cajuns defense in the final minutes to get within one point with less than a minute remaining.  The Lions went for two, but quarterback Lorenzo Nunez was stripped of the ball on a two point conversion attempt and Joe Dillon returned it for two points for the final margin.
Jordan Davis made his first start for the Cajuns and was 12-23 for 162 yards and a touchdown pass to Ryheem Malone.  He also rushed eight times for 48 yards, including a clutch run for a first down on the Cajuns' final drive.
Ragas had 61 yards on four carries before going out with a shoulder injury in the second quarter.  Mitchell had 56 yards on eleven carries in his first collegiate action.
Nunez finished 15-25 for 171 yards and three touchdowns.  He was intercepted once.  Bethea led all rushers with 187 on 23 carries after rushing for 132 in the first half.
Juwan Dickey had eight catches for 99 yards to lead the Lions' receivers, while Malone had four catches for the Cajuns.
Southeastern outgained the Cajuns 514-363 and was 10-17 on third down.  But the Lions had two turnovers to none for the Cajuns.
Louisiana heads to Tulsa for a 3pm contest next Saturday.
More From Classic Rock 105.1