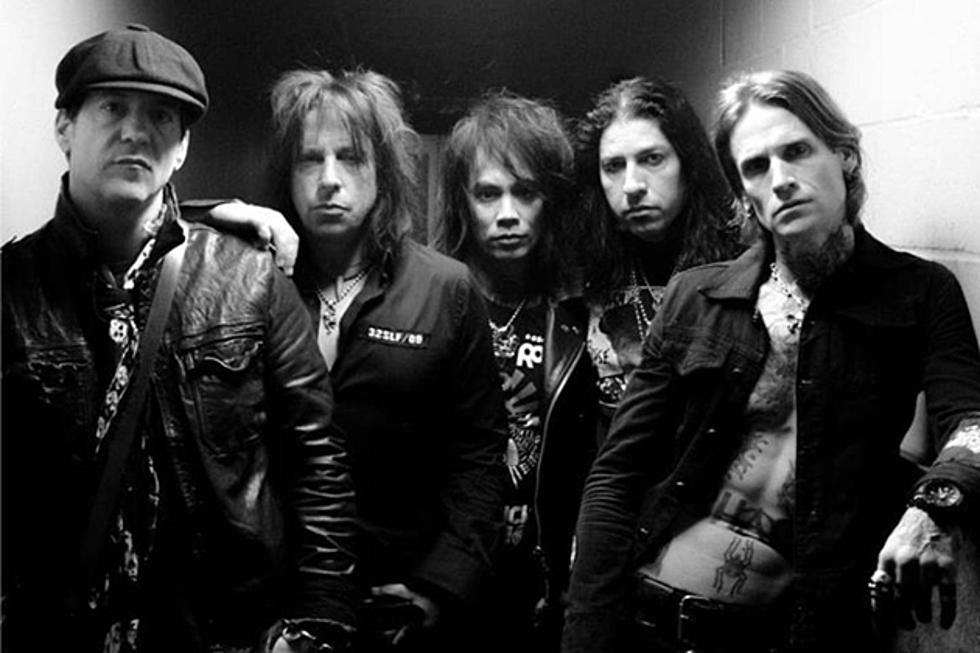 Buckcherry, 'Somebody F#cked With Me' – Exclusive Song Premiere + Josh Todd Interview
F-Bomb Records
After taking on the seven deadly sins in their 'Confessions' album, Buckcherry are taking on censors with their new EP, 'F#ck,' which features the F-bomb in the title of every track. Leading up to the EP's release on Tuesday (Aug. 19), the band is teaming up with Loudwire to exclusively debut the disc's leadoff cut, 'Somebody F#cked With Me.' We had a chance to chat with Buckcherry frontman Josh Todd about the song. Check out the interview and listen to 'Somebody F#cked With Me' below:
Loudwire is premiering 'Somebody F#cked With Me.' Great song …
Josh Todd: That's my favorite song on the EP.
Can you tell us about that track and how it came about?
JT: I had a lot going on as a kid, my childhood, I had a lot of weird stuff. I had a lot of dysfunction at home and on the flip side of it I was raised by a single mom and she'd ship me off to my grandfather's for the whole summer to save up money. So I'd go live with my grandparents in Oklahoma in a very small town, like a bible-thumping town. I had this very strange upbringing and really, 'Somebody F#cked With Me' is a moment in my life where I lost my innocence and I was starting to figure out the ways of the world and starting to figure out that in every situation somebody was full of s--t.
Somebody wasn't giving me the full story and made me feel angry. I just felt that there was so much hypocrisy in everything. That's what it's about. It's about all these situations and institutions and authority figures and all this stuff that tell you something, one way to go, and they're doing another thing and you have to figure out for yourself what it all means.
You touch on so many things in that song from politics to religion to parents and so on. We're curious to know what has you stirred up these days? Who do you think deserves the big 'F--- you'?
JT: [Laughs] Listen, for every person who's out there not walking the walk, there are people out there that are walking the walk. That's what I want to specify, it was an emotion. I wanted to capture that feeling of when I was just pissed off, pissed off about all of it.
I remember at a very young age I used to get up in the morning. My grandfather was a bible school teacher and he went to church religiously every Sunday and I had to go with him when I was living with him. I'd get up and debate the bible with him and what it was all about, and who wrote it, all these things. I think he got a kick out of it because he got to really explain things to me, but on the other side of it I thought it was such horses--t. I thought organized religion was bulls--t from the get go. Then I'd read all these stories about the Catholic church and all kinds of organizations that were abusing people. So I got a real -- it really rubbed me the wrong way at a very early age.
We all know politicians are full of s--t. Going to school, I was always f---ed with by certain teachers who didn't like my attitude or the way that I would question the majority. So all this stuff going on led up to 'Somebody F#cked With Me.'
Turn up your volume and rock out 'Somebody F#cked With Me' in the player provided below. If you like what you hear, the 'F#ck' EP is currently available to order in a variety of bundle options at this location. Be sure to catch Buckcherry rocking the 2014 Uproar Festival at these stops. And stay tuned for our full interview with Buckcherry's Josh Todd about the 'F#ck' EP.
Buckcherry, 'Somebody F#cked With Me'
More From Classic Rock 105.1