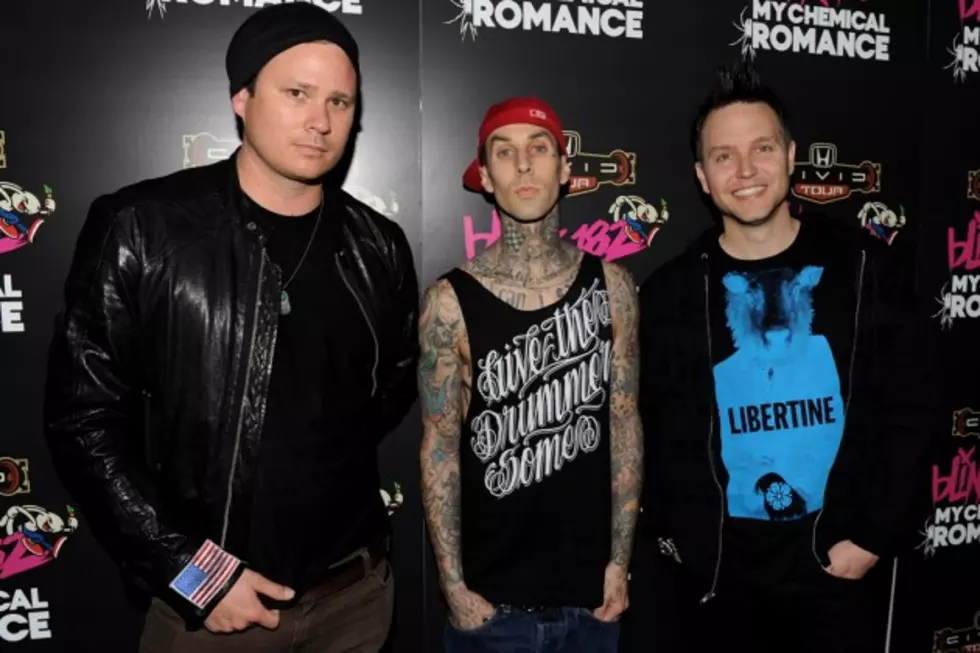 Blink-182 Members Call Tom DeLonge 'Disingenuous,' 'Disrespectful and Ungrateful'
Kevin Winter, Getty Images
After a day of "he said / he said" press releases and statements, it's pretty clear that there's a divide in Blink-182. And any ambiguity about the divide that remained has been cleared up in a new Rolling Stone interview with Mark Hoppus and Travis Barker in which they lay out their communication issues with Tom DeLonge.
As a recap, Blink-182 announced their participation in the MusInk Festival in a press release, but also stated that Alkaline Trio's Matt Skiba would be joining them on vocals as their attempts to get DeLonge involved with Blink's next album and touring were unsuccessful. Not long after, DeLonge responded by telling fans he had not quit the band and that the "only truth here is that I have commitments that limit my availability this year. I love Blink-182 and I'm not leaving."
Now Hoppus and Barker have opened up about their issues with DeLonge in a new interview with Rolling Stone. Hoppus says that the band has been working for the last two years attempting to line up a record label and make plans to move on with new music and touring. All three members reportedly decided to play MusInk, which Barker has an association with, and had signed on Christmas Eve to perform at the event and to finalize their record deal.
Hoppus states, "We had been talking about where we wanted to record, what producers we want to use, what day we want to start. This is all through e-mail. I don't think either of us have spoken to Tom in person in months, but everything's been moving positively. We booked Jan. 5 to go into the studio. On Dec. 30 we get an e-mail from Tom's manager saying that he has no interest in recording and that he wants to do his other, non-musical stuff and that he's out indefinitely. There's a flurry of e-mails going back and forth for clarification about recording and the show and his manager sends [an e-mail] back saying, 'Tom. Is. Out.' Direct quote. This is the exact same e-mail we got back in 2004 when Tom went on indefinite hiatus before."
Hoppus says that just like when Travis Barker couldn't fly to Australia to play shows, they found a replacement. And having signed to play the festival, they went about getting Matt Skiba to fill in for DeLonge so they would honor their commitment.
As for DeLonge's statement that he didn't quit, Barker says, "I think he's just bummed because Mark and I were finally honest. We always covered up for him before. It was always, 'We're going to record an album,' then 'Tom refuses to get into the studio without a record deal.' So everyone does hella amounts of work to get a record deal and now Tom isn't part of Blink-182. It's hard to cover for someone who's disrespectful and ungrateful."
When asked about the future if this is a permanent break with DeLonge, Hoppus added that there are legalities to be addressed. "I just want to go out and play Blink songs. I want to go out and play the songs that we've been spending the last 20 years of our lives writing. That's what Travis and I want to do," says Hoppus. "If Tom doesn't want to do that, which obviously he doesn't, that's OK. He doesn't have to be embarrassed or try to claim that he's secretly really working on Blink. People know what's up. C'mon, man."
Hoppus paints a picture of the other members doing all they can to accommodate DeLonge since he returned to the band, but adds that it has grown tiring apologizing to fans for not moving forward with more plans for the band.
He concludes, "When Tom finally said, 'I'm not going to go into the studio or play this show,' it was kind of a gigantic relief because at least he finally said it. But to then say, 'I didn't quit the band,' it's just not true. It's disingenuous. I just wish Tom does whatever makes him happy and stops holding Blink-182 back from what we all agree that we're going to do: play shows, record music, continue this legacy and have a good time doing it."
Read the full Rolling Stone interview here.
See the Yearbook Photos of Blink-182's Travis Barker and Other Rock Stars
More From Classic Rock 105.1