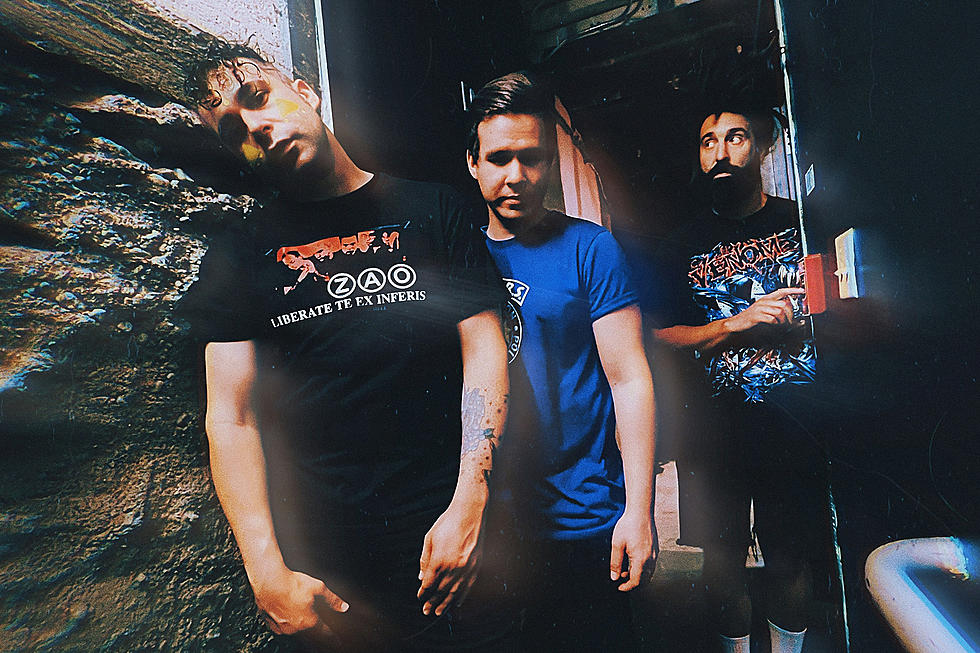 10 Best Guest Features on Rock + Metal Songs, Chosen by Mikey Carvajal of Islander
Photo by Seth Meyers
South Carolina alt-metal group Islander just put out It's Not Easy Being Human, their third album, which features a number of high-profile guest appearances from noteworthy stars across heavy music. So, in the continued spirit of collaboration, we invited vocalist Mikey Carvajal to break down the Best Guest Features on Rock and Metal Songs.
Islander formed in 2011 and, after issuing a pair of EPs in back-to-back years, they dished out their Violence & Destruction debut in 2014, followed by Power Under Control in 2016.
Although it's been quite the gap between LPs, Islander's momentum has only continued to build with their latest record being the first on new label home Better Noise Music, which also counts Five Finger Death Punch, Asking Alexandria, Nothing More and several others among its active roster. Labelmates Hyro the Hero and Fire From the Gods also cropped as guest collaborators on It's Not Easy Being Human, in addition to Lacey Sturm, Eric Vanlerberghe (I Prevail) and even three artists who got shoutouts in Caravajal's list.
Take a look at the singer's picks for the 10 Best Guest Features on Rock and Metal Songs below.
Islander's new album 'It's Not Easy Being Human' is out now and can be purchased here. Keep up with everything the band is doing by following Islander on Facebook, Twitter, Instagram and Spotify.
P.O.D., "Without Jah, Nothin'" (feat. HR of Bad Brains)

We've done a few songs with H.R. of Bad Brains, but P.O.D. did it first. I love this track because it perfectly represents both bands. When this was released, P.O.D. was one of the biggest mainstream bands on the planet and instead of playing by "mainstream rules," they went and got punk rock royalty on this track. H.R. sounds amazing on this song and it introduced a lot of the mainstream to the Bad Brains.

Bring Me The Horizon, "Wonderful Life" (feat. Dani Filth of Cradle Of Filth)

I love this song and the video for it. I personally think that Amo is one of the best heavy records of the new school generation. This song is super heavy and super catchy and that's something we've always worked toward in Islander as well. The combo of BMTH and Dani Filth worked perfectly.

Dead Poetic, "Paralytic" (feat. Chino Moreno of Deftones)

I love everything that Chino Moreno did on this song. I still think it's one of Dead Poetic's best songs as well. Brandon Rike already has an amazing voice, so to add Chino's beautiful voice to what Dead Poetic were doing was bound to be a recipe for something rad.

Norma Jean, "Memphis Will Be Laid To Waste" (feat. Aaron Weiss of Mewithoutyou)

This era of Norma Jean was game changing. While a lot of bands started sounding a bit more polished, Norma Jean recorded this record in a live setting at a studio.

Mewithoutyou were gaining a lot of steam when this Norma Jean album dropped and Aaron Weiss guested on it. It helped both bands build a brotherhood type of culture within the scene at that time. Aaron's voice stands out perfectly on this track as his poetic verse comes out of nowhere.

Bjork, "Where Is The Line?" (feat. Mike Patton of Faith No More)

This song was recorded using only voices as the instruments. Every time I hear it I feel like it would sound amazing on guitar and drums.

I love when a song's attitude can make the track feel heavy without it having to be loud guitars and stuff though, and this track definitely does that.

I used to have a DVD that showed them recording this at the studio, and it was so sick. One of my dreams is to have Bjork guest on an Islander track. Bjork, if you read this... Just thank you.

Post Malone, "Take What You Want" (feat. Ozzy Osbourne, Travis Scott)

I love this song. I get so frustrated when I see rock fans get upset when artists of a different genre want to share in the rock 'n' roll love. I love that Posty loves rock music.

We need more of this kind of thing in music in general.

All three artists sound amazing on this song, and I was so stoked when Sirius XM's Octane added it because I knew it would help bend genres a bit more on radio.

Deftones, "Headup' (feat. Max Cavalera of Soulfly)

This may sound nerdy, but when I was in high school I would use this song to pump me up.

I'm not sure even what I needed to be pumped up for, but this song is the one that made me feel like I could take on the world.

It's heavy and never stops being heavy. The dynamics of this track make every part heavier than the last. You can feel the passion Max and Chino have through your headphones. It's raw, I love it.

Zao, "Skin Like Winter (feat. Ryan "Maven" Clark of Demon Hunter/Training For Utopia/)

There were two versions of this track, this one being the first.

The second recording had better production, but I love how raw this version is and that it was at a time when bands would do split EPs in order to bring in more fans and to support one another. That culture needs to return.

Run DMC, "Walk This Way" (feat. Aerosmith)

This is one of the most popular songs of all time probably. Aerosmith has their own ride at Disney World. I don't think it gets "bigger" than that.

This song really helped to cross over hip-hop and rock 'n' roll and showed people that as different as they are, they are the same.

Two styles of music rooted in passion. It works perfectly and because of this song, we have a lot of other songs. So, thank you, guys.

Islander, "Skin Crawl" (feat. Brian "Head" Welch of Korn on guitar, Dan Weyandt of Zao, Bruce Fitzhugh of Living Sacrifice)

Okay, I know this is our own song, but I'm really proud of it.

It's insane to me that we have a song with Korn, Zao, and Living Sacrifice on the same song. If you haven't heard it, go fix that and bang your head.

I can only hope that we are half as legendary as any of these bands in the future. I am honored to not only have these guys on our album, but even more so to call them friends.
More From Classic Rock 105.1