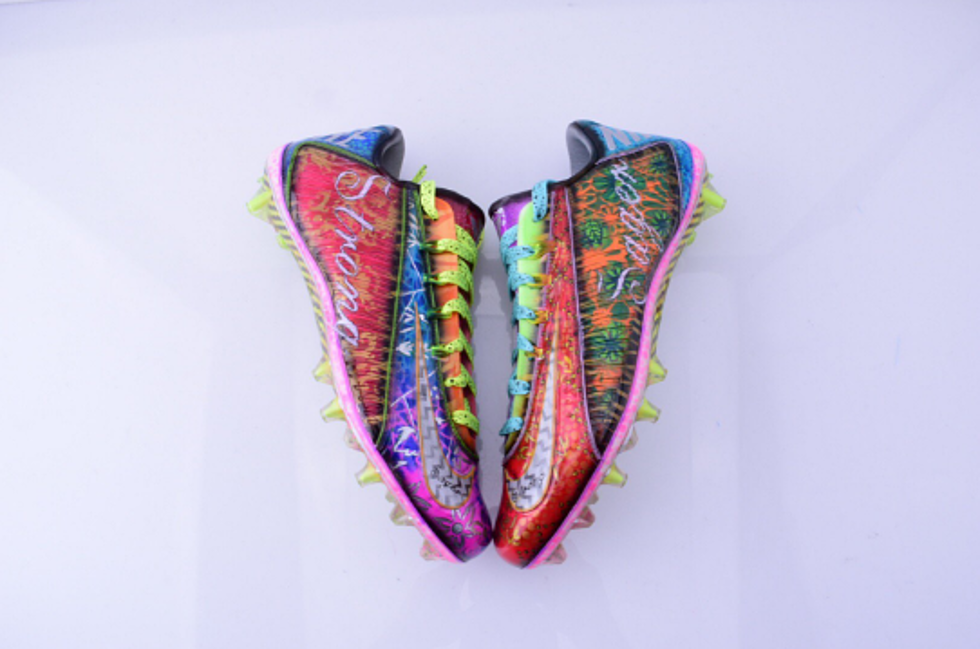 Beckham Fined $18K For Wearing Sager Strong Cleats For Charity
(photo from @SportsBlogNYC on Twitter)
The NFL didn't earn the nickname the "No Fun League" by accident. In their attempt to squeeze every dollar out of their players, sometimes they cross the line.
Giants Wide Receiver and former LSU Tiger Odell Beckham Jr. likes to wear crazy cleats, but this week he wore a special pair for a special cause...and the NFL fined him for it.
Beckham donned "Sager Strong" cleats to honor the memory of the late Craig Sager, the much beloved basketball sideline reporter known for his flashy style and flare. Beckham pledged to auction off his cleats to help benefit the Sager Strong Foundation, which helps families deal with the suffering of leukemia. It's an admirable gesture, but the NFL apparently wouldn't allow it without Beckham paying a price for his charity.
This isn't the first time the NFL fined a player for wearing cleats to promote a good cause either. They fined Brandon Marshall for wearing orange cleats to help raise Mental Health Awareness Week, and they've prevented other players from writing messages in their eye black to promote good causes as well.
The NBA allowed players to honor Sager by wearing his "Sager Strong" shirts during warmups, and Golden State gave out shirts to everyone who attended their game shortly after Sager's passing. This is just another example of the NFL's out-of-touch, money hungry mentality.
The NFL's vendetta against special cleats is simply ridiculous at this point. Let the guys have some fun, and ease off punishing players for trying to do something good.
More From Classic Rock 105.1