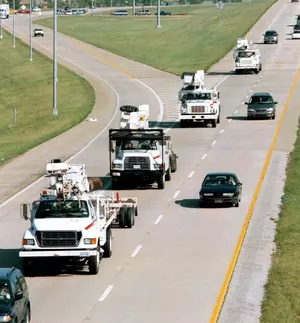 Alternating Lane Closures For I-49
Interstate Photo, (Photo by Mario Villafuerte/Getty Images)
Nightly lane closures on Interstate 49 will start this Sunday night, and will last for about five weeks according to the Louisiana Department of Transportation and Development.
DOTD officials says it is time to replace the striping and pavement markings on the roadway.
The work begins this Sunday, July 30, and it will last nightly through Thursday, September 7.
The work on the northbound side of I-49 is expected to start each night at 8 o'clock and then wrap up each following morning at 6.
Southbound work will start each night at 7, and then also wrap up each subsequent morning at 6 o'clock.
The work will be done on Interstate 49 between Interstate 10 and the Lafayette Parish line at the St. Landry Parish line.