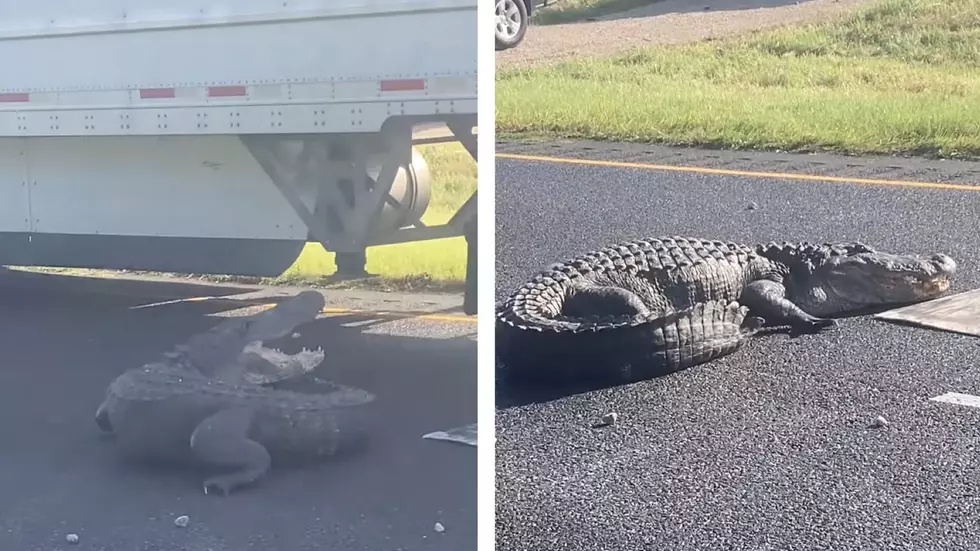 Massive Alligator Blocks I-49 Traffic in Louisiana – Video of Gator Hissing at Passing 18-Wheeler
via KSLA News 12
Reports say that drivers on I-49 in Louisiana had quite the roadblock as a massive alligator sunbathed in the middle of the road. Video shows the animal hissing at an 18-wheeler passing by, as this large gator was seemingly not moving for anyone.
Reports from KSLA News 12 say that DeSoto Parish Sheriff's Officers shared photos of the large gator on social media, as the animal blocked traffic on I-49 South close to the Natchitoches Parish line.
The alligator reportedly measured approximately 10-feet in length. An officer reportedly was able to get the gator off of the interstate and into a nearby creek.
The DeSoto Parish Sheriff's Office had a little fun of their own after ridding the interstate of the gator. See what they posted to Facebook here.
Alligator on I-49 in Louisiana Hisses at Passing 18-Wheeler
Check out the video of the alligator hissing at a passing 18-wheeler via KSLA News 12 on Facebook below.
See the full story via @KSLA on Twitter below.
Not-So-Nice Nicknames for 10 Louisiana Towns
More From Classic Rock 105.1