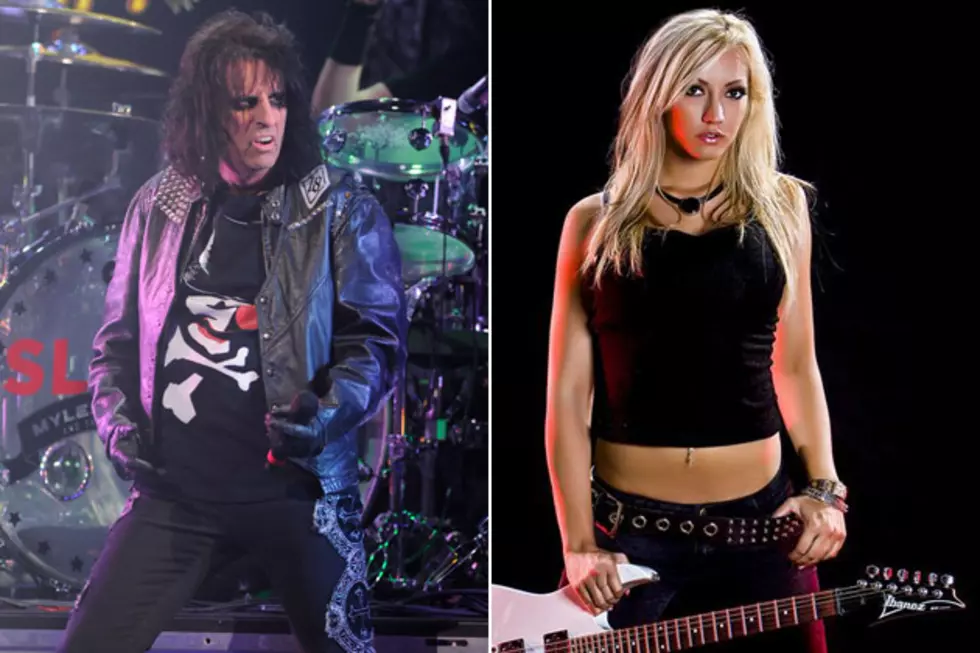 Could Alice Cooper's New Guitarist End Up In Playboy Magazine?
Frazer Harrison, Getty Images / Facebook
Classic rock stars such as Bob Dylan and John Lennon have appeared via interviews in Playboy over the years. Few, however, have ever been extended an opportunity to grace the pages of the magazine quite like Alice Cooper's new guitarist Nita Strauss.
In a recent interview with the Examiner, Strauss was asked about a recent appearance she made on Playboy Radio, and if it would lead to a future photo spread in the racy publication. "They joked about it a lot," she recalled. "They didn't put an official offer on the table. But they definitely threw it out there. My joking response was, 'Maybe with a strategically placed guitar' (laughs). I don't think it's actually in the future, but it's fun to joke about."
Strauss went on to defend some scantily clad photos of herself that appeared in a feature titled 'Hot Chick in Hard Rock' in Revolver Magazine, making the case that her appearance does not detract from her abilities on the fretboard. "If you want to look at the photos in Revolver and think, 'This girl's trying to get attention because she looks the way she does,' then that's fine," she said. "I'm still going to do my same practice regimen, and I'm still going to get on stage and do all my guitar set-ups and swap out my own pickups. I'm still going to do all that stuff too. People are always going to talk."
More From Classic Rock 105.1