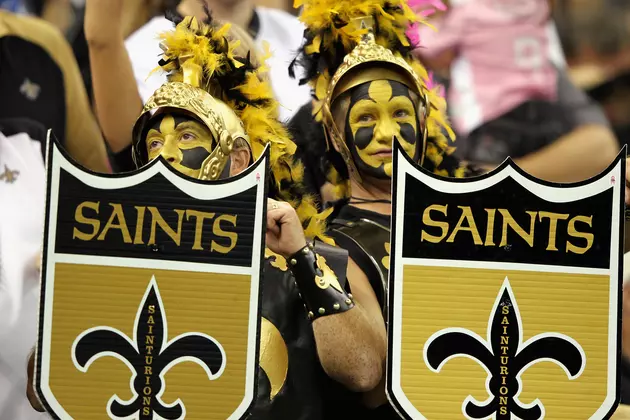 5 Reasons Why The Saints Will Win Over Patriots
(Photo by Jamie Squire/Getty Images)
The New Orleans Saints open their 2017 home schedule on Sunday afternoon, playing host to the New England Patriots, and it's time to take a look at five reasons why they will win.
Actually, that should probably read "why they might win', as honestly, I don't think they will.
But it is an NFL game. I mean, we're not talking about a college football game between Alabama and Idaho St. here. So they can win, and below I list 5 reasons why.
In another segment, Greg Larnerd lists five reasons why the Saints will lose.
Kickoff time is scheduled for noon.
5 Reasons The Saints Will Win:
1)—Drew Brees: Brees led the NFL in passing yards-per-game in 2016, averaging 326.0 a contest. He had his best season since 2013, eclipsing 5,000 passing yards in a season for the fifth time in his career, and for the first time since that 2013 campaign. Last week, it looked like Brees didn't have a really good game. And you know what?..he probably didn't. Yet still, he threw for 291 yards, without an interception, with a banged up offensive line, a depleted receiving group, and no running game to speak of. And yeah, we're talking about the Patriots here, and it is only one game, but Chiefs quarterback Alex Smith threw for 368 yards and 4 touchdowns against their defense on opening night. They're not perfect. Even at age 38, Brees has shown no signs of slowing down, and always gives the Saints a chance to win, especially going up
2)—Cameron Jordan: He should have been named to the Pro Bowl last year. Just silly that he wasn't. Jordan ranked in the top five in the NFL lwith 17 tackles for loss and also  ranked in the top 10 with 23 quarterback hits, to go along with five batted passes. His problem is he only had 7.5 sacks. Still, his versatility is to his detriment. Jordan is a greatly underrated/underappreciated player. In the Saints' opener on Monday night, they had a lot of negatives, but Jordan wasn't one of them, as he compiled 4 tackles, including a sack. The Saints need to put pressure on Tom Brady, and heir best bet to do that is Jordan. Again, the Patriots are the Patriots, an organization every other one is trying to be, but they aren't perfect. The Chiefs sacked Brady 3 times, and hit him 4 times. It can be done. Look for Jordan, who has still never missed a game in his career, to be his normally reliable self, and look for him to have a monster year in 2017.
3)—More Sense Of Urgency For The Saints: I believe this game is much more important to the Saints, and I believe they will play with much more of a sense of urgency. If the Patriots lose, 98% of the people that picked them to win the AFC East prior to the start of the season will still likely do so. If the Saints lose, it would mark the fourth-consecutive season that they would begin a season at least 0-2, and they went 7-9 in the three previous ones. There are a lot of people who believe major changes will be made if the Saints don't make the playoffs this year, and their chances of making the playoffs diminish greatly with a loss on Sunday. This is a home game, the home opener, and almost a playoff-type game. From an intangible standpoint; advantage Saints.
4)—Third Down Efficiency: New Orleans was tops in the league, converting on 48.0 of their third down conversions, last season. New England was pretty good too, converting on 45.8 of their third down attempts, which ranked tied for 5th. Still, third down success is more critical to the Saints is this game. They're banged up on the offensive line, will be missing Willie Snead, which may hurt them in third down situations, and are very suspect defensively. For them to win, they have to keep drives alive, and even playing short-handed, they are still more than capable of doing that.
5)—Mark Ingram: He had the best year of his career last season, rushing for 1,043 and 6 touchdowns, and keeps getting better. Look for the Saints to better utilize the Ingram/Petrson/Kamara trio, and look for Ingram to have a nice game. He may not rush for 148 yards against them like Kareem Hunt did, but I think he'll have a solid game. The Saints have a rookie left tackle, who understandably is better at run blocking than pass blocking, and a back-up starting at right tackle, so they absolutely have to have success on the ground. Setitng the offense up in manageable second down situations, moving the chains, and keeping the defense off the field is vital, and Ingram will be a big part of that.
More From Classic Rock 105.1