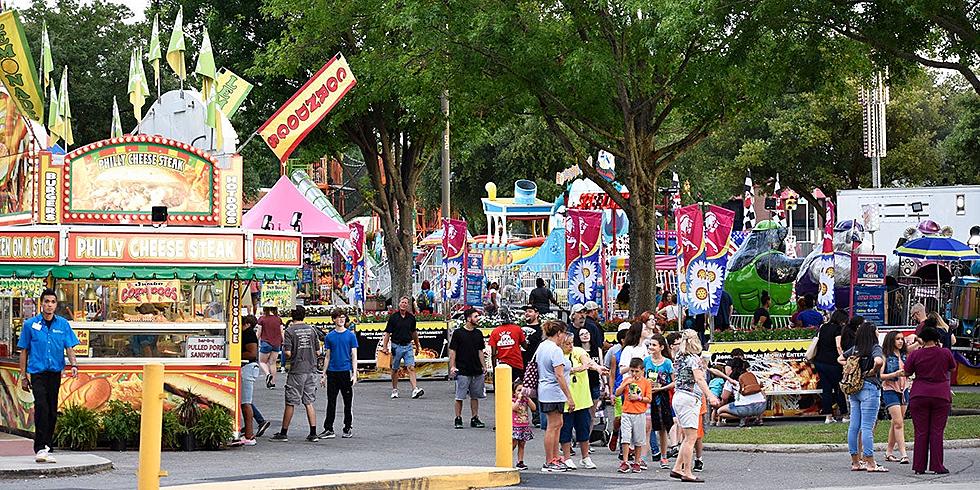 2023 Cajun Heartland State Fair Under Way, Here's How You Can Get Discounted Ride Wristbands
Cajundome
It's time for some "Go Go, Fun Fun" as the 2023 Cajun Heartland State Fair is officially in full swing at the Cajundome in Lafayette.
This year's Fair will run for eleven days from May 25 through June 4, 2023.
There are a ton of great activities for the entire family to enjoy including live music at the Coca-Cola Grandstand Stage, shows and attractions including performances at Circus Hollywood, Pig Races, Puppy Pals Stunt Show, and Table Room entertainment.
Of course, the highlight of the Cajun Heartland State Fair for many is enjoying the rides on the midway.
If that's the case for you, let us help you save some money with discounted ride tickets and/or wristbands.
Below is one of the exclusive deals you can scoop up right now for this year's Cajun Heartland State Fair.
FUN/FUN COUPON
When you buy your ride wristbands at the Cajundome Box Office, simply mention "Fun Fun" and you will save $5 per wristband, up to eight wristbands.
It's just that easy. And ride wristbands are available every day of the Fair.
2023 FAIR DATES & HOURS
The fair admission hours are as follows (gate open/gate close):
Thursday, May 25th: 5:00 pm - 10:00 pm
Friday, May 26th: 5:00 pm - 10:00 pm
Saturday, May 27th: 12:00 pm - 10:00 pm
Sunday, May 28th: 12:00 pm - 10:00 pm
Monday, May 29th: 12:00 pm - 9:00 pm
Tuesday, May 30th: 5:00 pm - 9:00 pm
Wednesday, May 31st: 5:00 pm - 9:00 pm
Thursday, June 1st: 5:00 pm - 9:00 pm
Friday, June 2nd: 5:00 pm - 10:00 pm
Saturday, June 3rd: 12:00 pm - 10:00 pm
Sunday, June 4th: 12:00 pm - 8:00 pm
The admission gate will close nightly at the posted time and no new admissions will be permitted after that.
Midway rides will continue to operate for one hour past the gate closing time.
To view the Coca-Cola Grandstand Music schedule, attraction show times, ticket information, and more, visit the Cajun Heartland State Fair event page here.
Fun and Free for Kids and Parents in Lafayette
It seems like the cost of everything is going up. If you're a parent you want to take your kids out to enjoy our area, but it would also be nice to know where you can go and find attractions that don't cost anything.
More From Classic Rock 105.1